The French president, Nicolas Sarkozy, spent the last few days dedicating himself to the celebration of the 20th anniversary of the fall of Berlin Wall, and, on that occasion, he spoke a lot about foreign policy and his relationship with foreign leaders, like Angela Merkel, or Barack Obama.
And today, thanks to the French weekly satirical newspaper, le Canard Enchaîné, we have the confirmation of something we have suspected for a long time : Sarkozy suffers from a terrible disease : Obamaphobia !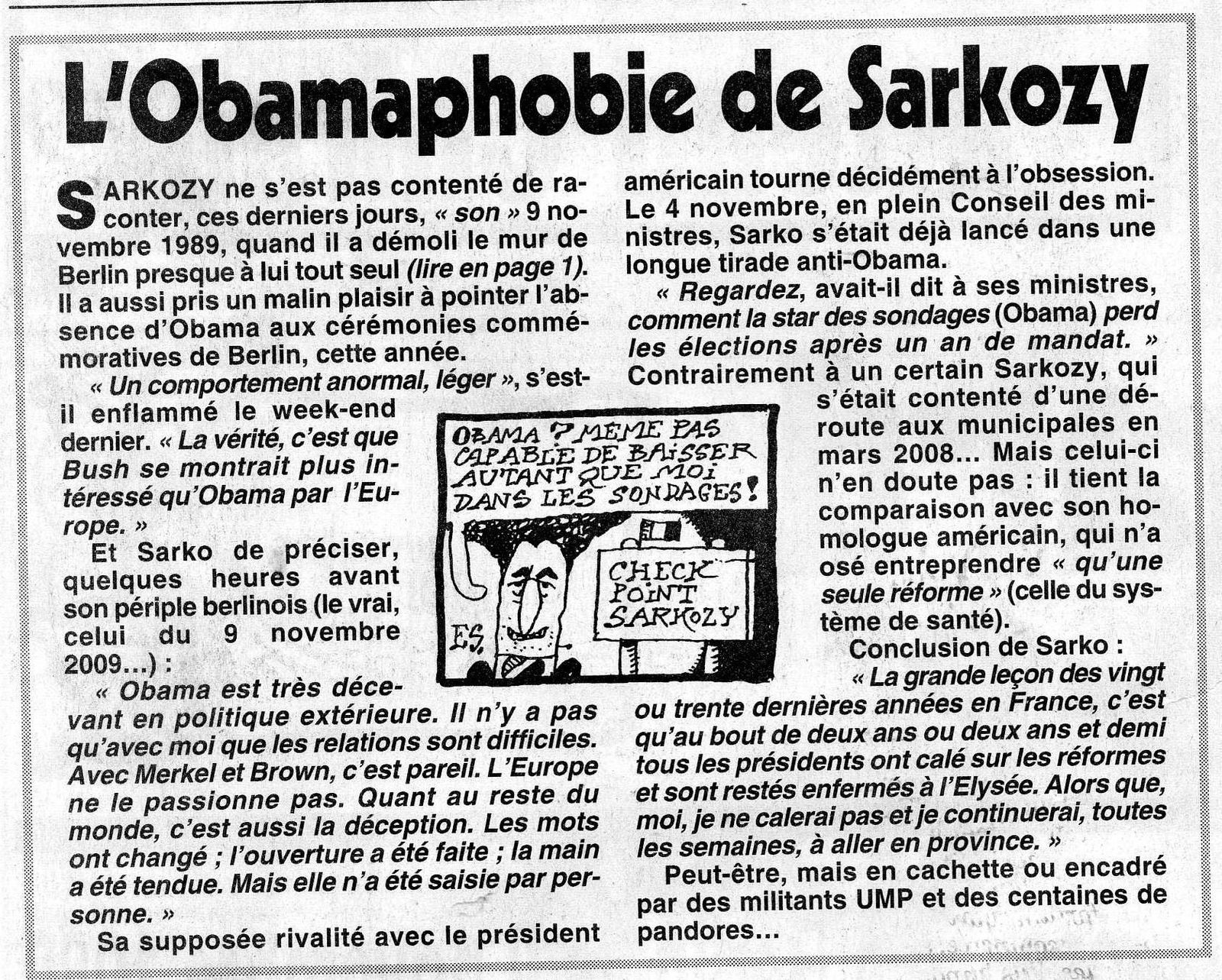 Here is a translation of the article :
« After claiming that he was present in Berlin on the evening of the ninth of November 1989 to contribute to the destruction of the wall with a hammer, (which was a lie), Nicolas Sarkozy had a lot of fun criticizing his American counterpart, Barack Obama. And in particular, he pointed out the big mistake made by the American president when he refused to come to Berlin for the celebrations, this year :
« His behaviour is not normal, it is really thoughtless », Sarkozy declared vehemently last week-end.
« The truth is Bush was more interested in Europe than Obama is ! ».
And, Sarko went on :
« In foreign affairs, Obama is very disappointing. He and I don't get on well , but I'm not the only foreign leader to have bad relationships with him. He does not get on well either with Merkel or with Gordon Brown. And the rest of the world is very disappointed with Obama, too. The words have changed ; an opening has been made ; a hand has been extended ; but everybody has rejected it. »
His rivalry with Obama has visibly become an obsession.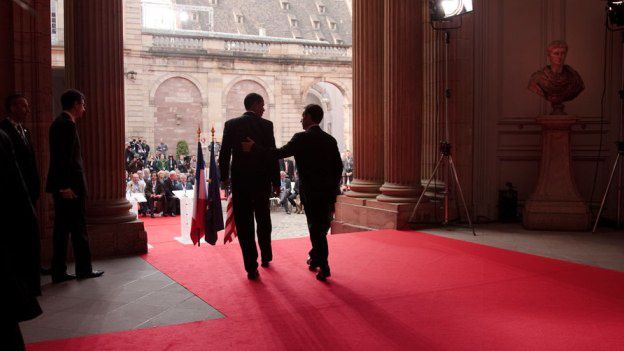 On the 4th of November, during the weekly meeting of the French Cabinet which gathers all the ministers of the government (Conseil des Ministres), he launched into a long tirade against Obama :
« Think about how Obama, the star of the polls, has lost the elections one year after becoming president »
Here, Sarkozy forgets that he himself had also lost local elections in 2008, only one year after being elected…
But never mind, Sarkozy is self-confident : when he compares himself to Obama, he is convinced that he is better than him. And he explains that contrary to Obama, he has managed to reform his country, whereas Obama has contented himself with one reform only, that of the health care system.

After reading this article, I must confess that for the first time in my life, I tend to agree with Sarko today. For the moment, Obama has failed, at home and abroad.
And for the first time in my life too, I'm quite proud of the president of my country, as I totally share his Obamaphobia !