NAZISM HAS NOTHING TO DO WITH OPPOSING OBAMA !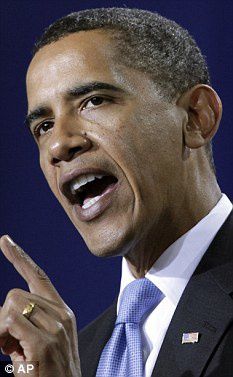 Obama looking angry : that was yesterday... Once again, he was trying to explain his reform, but not listening : now he must accept criticisms and opposition to his policies !


Be very careful if you read, watch or listen to the news these days...


For instance, this morning, you will read the following :


The FBI and police were investigating after a swastika was painted outside Rep. David Scott's district office in Georgia, an act the suburban Atlanta Democrat said reflects an increasingly hateful and racist debate over health care and should remind people to tone down their rhetoric.
Scott's staff arrived at his Smyrna, Ga., office Tuesday morning to find the Nazi graffiti emblazoned on a sign bearing the lawmaker's name. The vandalism occurred roughly a week after Scott was involved in a confrontational argument over health care at a community meeting.
Scott said his office immediately notified authorities, including the U.S. Capitol Police, who have warned lawmakers about potential threats stemming from the increasingly emotional debate over health care reform. An FBI spokesman said the bureau is investigating along with Capitol Police and the Smyrna Police Department.
The congressman's office is located in a bank building and Scott said he was optimistic that surveillance cameras captured the vandalism.
Scott, who is black, said he also has received mail in recent days that used N-word references to him, and that characterized President Barack Obama as a Marxist.
"We have got to make sure that the symbol of the swastika does not win, that the racial hatred that's bubbling up does not win this debate," Scott said in a telephone interview. "There's so much hatred out there for President (Barack) Obama." (source : Breaking News 24/7)


So Obama's opponents are Nazis, aren't they ?

This is simply ridiculous !

As you can see, there is currently a campaign in the media which aims at caricaturing the opponents to Obama's health care reform. It consists in ridiculing them, or portraying them as right-wing extremists and racists, ignoring their arguments and the reasons why they reject Obama's plan.

Have a look at this type of cartoon :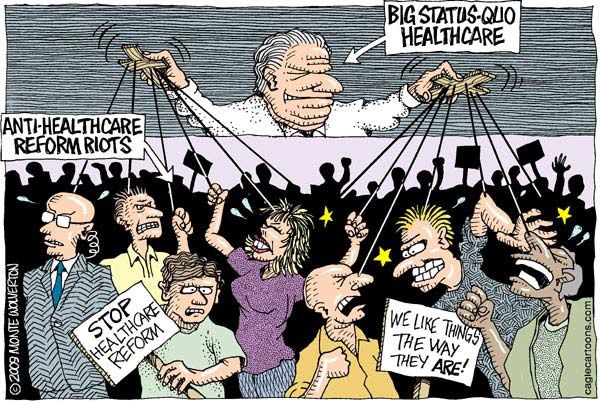 Shocking,isn't it ?

Let me tell you one thing :


I am not here to judge the legitimacy of their arguments : I only know they do not want a reform they see as "Socialist".
As a French person, I rather agree with the idea that everybody should have access to health care (in France we have universal health care, and this is a good thing, of course), but I know this is not the Americans' opinion, and I respect their views.

I think the subject is extremely difficult, and I remember how Hillary failed in 1993, although she had worked hard to propose a coherent reform.

What I can't tolerate is what is happening at the moment :
people do not have the right to protest just because Obama is president.

As soon as they oppose him, they are called "racists".

America has become mad : just because Obama is black, there should be no more opposition.

But America NEEDS a debate : why does Obama refuse to hear his opponents ?

Why does the media systematically side with him, and denigrate all those who don't agree with him ?

I think this is a very dangerous attitude, which can only lead to angering people more and more...

And do you know what might happen ?
If these people have the impression that they cannot say anything against their president, they might really become radicals in the future...