Waiting for Mister O. to make up his mind...
The world continues to wait, and wait, for Obama to make up his mind.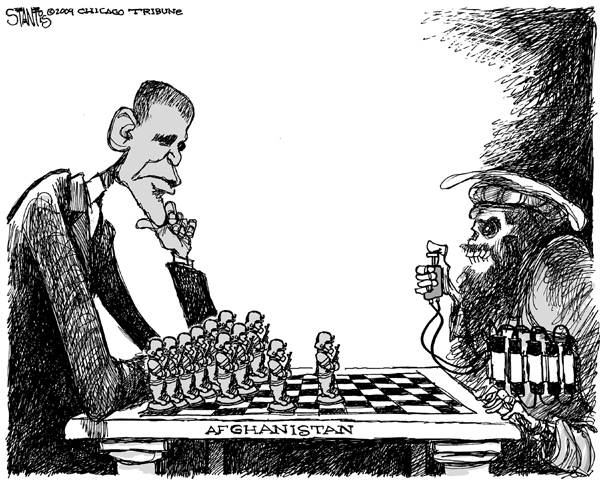 He has two options, two possible strategies, COIN or CT...


Will the Nobel PEACE Prize decide to listen to General McChrystal and send more troops to Afghanistan (counter insurgency or COIN) or will he simply try to counter terrorism by killing terrorists as they emerge (CT, advocated by the vice president for example) ?

Whatever the strategy, he needs to take a decision very quickly, as the situation in the region is becoming an emergency, with Pakistan on the brink of a chaotic civil war.

At the moment, thus, the whole world waits for yet another US review of its Afghanistan and Pakistan policy.

Yet, Obama seems totally impotent.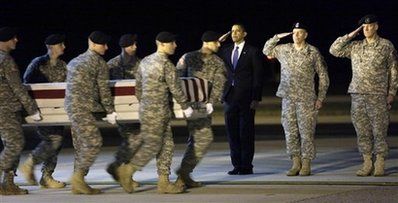 President Barack Obama, center, Army Assistant Judge Advocate Maj. Gen. Daniel Wright, second from right and Army Special Forces Commander Brig. Gen. Michael Repass salute as an Army carry team carries the transfer case containing the remains of Sgt. Dale R. Griffin of Terre Haute, Ind., during a dignified transfer at Dover Air Force Base, Del., Thursday, Oct. 29, 2009.(AP Photo/Pablo Martinez Monsivais)


Moreover, as the German newspaper Der Speigel recently asked, can a Nobel Peace Prize winner wage and win a war in Afghanistan?
The Obama administration seems overwhelmed. It is simultaneously dealing with healthcare reform, the fallout from the financial crisis, the Afghanistan/Pakistan disaster and the demand for a global warming agreement.

And on all these issues, Barack Obama is incapable of showing he is a real leader.

Meanwhile, Hillary is risking her life in Pakistan, and she is put in accusation by thousands of women (for whom she had always been a model). She is accused of being responsible for the death of hundreds of civilians.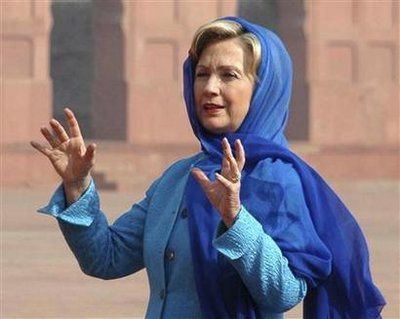 Secretary of State Hillary Clinton gestures during her visit to the historical Badshahi Masjid in Lahore, October 29, 2009.
REUTERS/Pool
http://europumas.over-blog.com/pages/pakistanis-confront-clinton-over-drone-attacks-1943417.html
But, what can Hillary do now ? ?