SLAUGHTER YOU CAN BELIEVE IN

Tragic Breaking News :

Four US soldiers died and two were hurt when two helicopters collided mid-air in the south, Nato-led forces said.
In a separate helicopter crash, in western Badghis province, seven US soldiers and three US civilians died.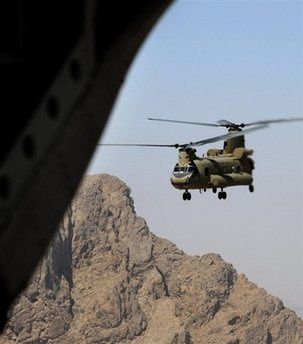 A US Army Chinook helicopter seen in operation in southern Afghanistan. Four US soldiers have been killed in what NATO said was believed to be a mid-air collision between two helicopters in the region.(AFP/File/Romeo Gacad)


The US said hostile fire was not believed to be to blame for either incident, but the Taliban said it was behind the Badghis crash.
Taliban spokesman Qari Yusuf Ahmedi told the AFP news agency militants had shot down the US helicopter in the Darabam district of the province.
Another 12 Americans and 14 Afghans were also reported to have been injured in that crash.

Now, do Obama and his friend Sarkozy intend to react ?

Are they going to put an end to that odious war ?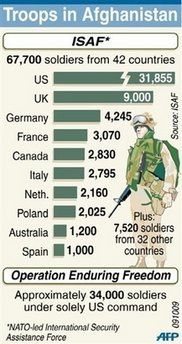 Bar chart showing foreign troop contingents in Afghanistan. Expectations are mounting in Washington that President Barack Obama may be moving towards a commitment to send more troops to Afghanistan, following an exhaustive review of US war strategy.(AFP/Graphic/Sophie Ramis)



In France, and in the US, there is currently no debate : Congress has no right to say anything.

The French population is hostile to this war, and so are Americans.

But both Obama and Sarkozy do not seem to care. They never listen to their fellow-citizens.

The pictures of the coffins of French and American troops are regularly shown on television.

Everybody in France and in America still wonders : what are we doing over there ?

Who are we fighting for ?

Who are we fighting against ?

Yesterday, some Afghan students burnt the effigy of Mister O.

Oh ! Oops !

I forgot !

The man who is currently leading this deadly war is the 2009 Nobel Peace Prize...