Barack Obama does not seem to care much about Europe.
After repeatedly scorning our French president Sarkozy, he has now behaved quite inelegantly with German Chancellor Angela Merkel.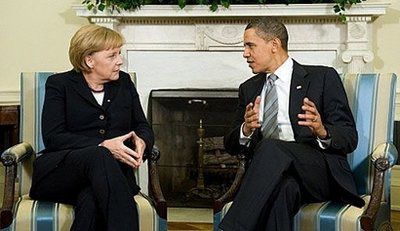 President Barack Obama (R) speaks with German Chancellor Angela Merkel during meetings in the Oval Office of the White House in Washington, DC. Obama hailed Germany as a strong ally on Tuesday and paid tribute to the "extraordinary" leadership of Merkel as she prepared for a rare address to the US Congress.(AFP/Saul Loeb)




First, he refused her invitation to attend the ceremonies to celebrate the fall of the Berlin Wall (20th anniversary) next week, saying he is too busy at the moment...

And secondly, he failed to inform her of General Motors' decision not to sell Opel the German car manufacturer (a while ago, GM had announced plans to sell Opel,The German government spent months brokering a deal with a Canadian-Russian venture to buy Opel and preserve jobs in Germany).
Two days ago, GM decided that it won't sell Opel; instead, it will keep the company and seek German government aid to restructure its operations — effectively scuttling all the work the German government has done to balance its sensitive business-labor environment.

Strangely, Chancellor Merkel was in Washington meeting with the president and Congressional leaders at the time the decision was made. But according to the Wall Street Journal, no one in the Obama Administration bothered to inform her that GM was about to drop its bombshell.
http://europumas.over-blog.com/pages/how-to-lose-an-ally-in-ten-months-1980261.html





German Chancellor Angela Merkel addresses a joint session of Congress as U.S. Vice President Joe Biden (L) and House Speaker Nancy Pelosi applaud on Capitol Hill in Washington, November 3, 2009. Merkel, who began her second term in office last week, is the first German leader to address the U.S. Congress since Konrad Adenauer in 1957.REUTERS/BPA/Handout (UNITED STATES POLITICS)



Today, German newsites are all making their headlines today on Opel workers' anger. And, if you read carefully, you understand that Angela Merkel is infuriated too, as she is wondering if Barack Obama did not fool her when he met her two days ago.
WHy, why did he say nothing about it ?

Today, the diplomatic quarrel was so menacing with one of America's oldest allies that the Obama administration was forced to issue a press release to assert that the White House has nothing to do with GM"s decision.

But what they fail to say is that GM is in majority owned by the US government.
Moreover, this is Obama himself who appointed the members of GM's board when he took the decision to give money to the auto-maker a few months ago, so it is impossible to believe his administration did not take part in that decision.

So now, who is going to believe that the White House had not been informed of the decision ?

The only conclusion is that :
- either Obama is a coward and he did not dare say anything when he met A. Merkel

- or he is so careless and disrespectful that he simply forgot to tell her !

Whatever the explanation, I think it is quite revealing of Mister O.'s scorn toward his European allies...