NATIONAL THREAT : MORE POWERS TO OBAMA !
Last night, I watched the news on American TV channels, and I could not believe my eyes.

First, I heard that the president had proclaimed a state of national emergency over the worsening swine flu situation.

"National emergency" ?
Well, that sounds bad, doesn't it ?

Is America launching a new war ?

Indeed, the pictures I saw on my screen last night looked like those of a third world country, with thousands of people queuing up at night to have a chance to be the lucky ones to be vaccinated in the morning, as there is a shortage of vaccines (already ! winter hasn't started yet !)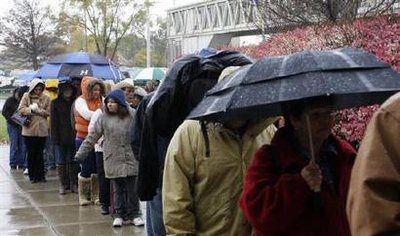 Some of the 1,200 people who braved rain and 39 degree (3 degrees Celcius) temperatures queue to receive a free H1N1 flu vaccine at Richard J. Daley College in Chicago, October 24, 2009. U.S. President Barack Obama has declared 2009 H1N1 swine flu a national emergency, the White House said on Saturday. REUTERS

In France, the French governement has ordered millions of vaccines, and now does not know what to do with them, as here there are very few people ill, and most of the population refuses to be vaccinated.

Yet, at least, the French government has planned everything... and has prepared itself to retaliate in case of a pandemic...

Now, in the US, it seems to be exactly the contrary...

Obama was probably to busy celebrating his Nobel Prize, and he did not care about the issue.
What has Mrs Sebelius been doing over the last few weeks ?

I suggest the French Health Minister, Mrs Roselyne Bachelot, go the US to train her American counterpart, and to teach her how to handle a sanitary crisis !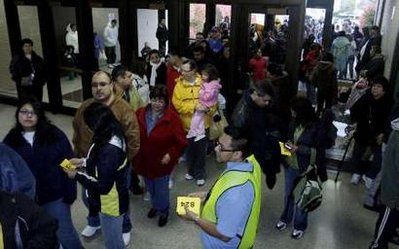 Healthcare worker Damian Blaza (bottom) passes out numbers to people waiting in line to receive a free H1N1 flu vaccine at Richard J. Daley College in Chicago October 24, 2009. U.S. President Barack Obama has declared 2009 H1N1 swine flu a national emergency, the White House said on Saturday.REUTERS/Frank Polich (UNITED STATES HEALTH


So far, it must be acknowledged that the government's response, on all levels, has been spotty.

On Friday the CDC reported that the H1N1 virus is now widespread in 46 U.S. states — a level of flu activity that is usually not seen until later in the winter.

Since the virus began spreading, millions of Americans have been infected, at least 20,000 have been hospitalized and 1,000 have died — including nearly 100 children.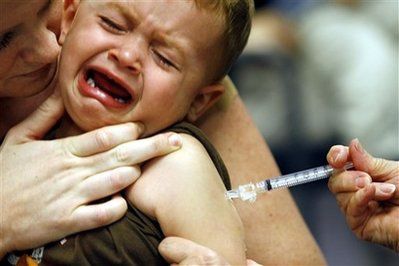 Bobby Callow, 2, of Clifton, Va., gets the swine flu vaccine as his mother Allison Callow comforts him during a vaccine clinic at the Fairfax County Government Center in Fairfax, Va., on Saturday, Oct. 24, 2009.(AP Photo/Jose Luis Magana)


The best way to slow the growth of those numbers would be to rapidly manufacture and distribute the new H1N1 vaccine. But that's proven even more difficult than health officials anticipated when the virus first began spreading in the spring.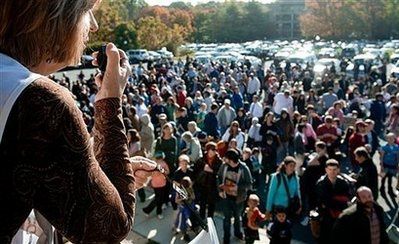 A Montgomery County health employee updates people waiting in line to receive an H1N1 flu vaccination on the amount of vaccines remaining at Montgomery County's Piccard Drive Health Center in Rockville, Maryland, October 21. Distribution of the vaccines for the so-called "Swine flu" have begun for small children and high-risk individuals.(AFP/File/Saul Loeb)






Drug manufacturers have experienced setbacks growing the vaccine — instead of the 120 million doses the CDC had initially hoped to have by the end of October, the real number will likely be closer to 30 million.
"Vaccine production is much less predictable than we wish," says Frieden. "We are nowhere near where we thought we'd be by now."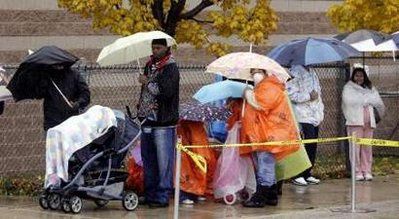 People wait in line to receive a swine flu vaccination at a public clinic in Milwaukee, Wisconsin October 23. 2009. With a national shortage of the vaccine the City of Milwaukee Health Department has less than 7,000 doses of the vaccine available on a first come first served basis, local media sources report.REUTERS/Allen Fredrickson (UNITED STATES HEALTH)





At the same time, actually getting the vaccine to the people who most need it — pregnant women, kids between the ages of six months and 24 years, health workers — hasn't been easy either. Complaints of vaccine shortages have emerged around the country, and local public health departments say they don't know when more vaccine will arrive. Worried parents say they don't know where to go to get the vaccine for their kids — their doctor's office, the school, a local hospital?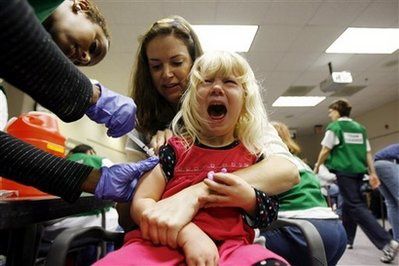 Registered nurse Bethlehem Tekolla administers the swine flu vaccine to Katie Alms, 3, as her mother Kim Alms of McLean Va., watches during a vaccine clinic at the Fairfax County Government Center in Fairfax, Va., on Saturday, Oct. 24, 2009.(AP Photo/Jose Luis Magana)


The White House said the president signed the proclamation concerning the 2009 H1N1 outbreak on Friday evening.
"The 2009 H1N1 pandemic continues to evolve," he said in the declaration.
It will make it easier for medical facilities to handle a surge in patients by allowing the waiver of some requirements of Medicare, Medicaid and other federal health insurance programmes as needed.
It increases the ability of treatment facilities to handle a surge in H1N1 patients by easing the implementation of emergency plans.




Some people might fear this proclamation of national emergency could give new powers to the president.
Here is what the Christian Science Monitor writes about it today :


The US has been under near constant national emergency since the Korean War. Presidential emergency declarations go back to the founding of the Republic and have included the Whiskey Rebellion and the Great Depression. The political philosopher John Locke believed that not just war and natural disasters but simply the "common good" could be a good enough reason to impose an emergency.
Indeed, most declared emergencies have less to do with real threats to Americans and more to do, for example, with trade or, as in one current emergency, an import ban on rough diamonds from Sierra Leone.
Emergency powers under President Bush's declaration shortly after 9/11 have been credited with successfully interdicting terrorist cells. But civil libertarians argue the Bush administration crossed Constitutional lines with some of its interrogation and communications interdiction initiatives.
Presidents are technically not allowed to waive any right but habeas corpus during an emergency. But their legal powers extend farther than that, and these have largely gone unchecked by Congress or the courts.
"When the President formally declares a national emergency, he may seize property, organize and control the means of production, seize commodities, assign military forces abroad, institute martial law, seize and control all transportation and communication, regulate the operation of private enterprise, restrict travel and, in a variety of ways, control the lives of United States citizens," writes Harold Relyea, a specialist in national government with the Congressional Research Service, an arm of the Library of Congress.
The reform-minded National Emergencies Act of 1976 intended to formalize executive branch emergency powers and force declarations to automatically lapse after a year. But the standard operating procedure has been for presidents to simply renew ongoing emergencies year after year.
President Obama's swine flu declaration is the 33rd national emergency declaration since 1976.(Christian Science Monitor)




This sounds scary, doesn't it ?