I STILL BELIEVE IN HILLARY !
I've been a Clinton fan from the start.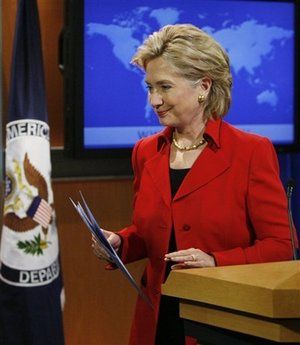 Secretary of State Hillary Rodham Clinton leaves the podium after speaking about the 2009 Annual Report on International Religious Freedom, Monday, Oct. 26, 2009, at the State Department in Washington.(AP Photo/Charles Dharapak)



Since 1992, I've followed every step of the Clinton couple, celebrated Bill' s first election, and reelection, and supported Hillary in her 2008 presidential bid.

In June 2008, when she was obliged to give up, I cried and felt totally hopeless.
I was all the more desperate and disappointed as I believed it was high time for a woman to lead the nation.

Then, I watched Obama's election, and I could not believe my eyes.

It took me quite a long time to realize this fraud had been chosen by millions of people.

But gradually, I felt better...

Day after day, I saw Obama disintegrate in front of our eyes, in front of the world's eyes.

And day after day, I understood...

Hillary will come back !

Her talent is now even more visible, compared to Obama's impotence.

And today, I found this column on the Internet...
and if you are a Hillary fan, like me, I strongly advise you to read it. It starts as follows :


So far, President Obama has been an all-around disappointment. His most important accomplishment is not accomplishing anything, and he has an infantile tendency to try to silence, ignore and/or castigate anyone who disagrees with him — as if the critics of George W. Bush weren't equally, if not more, virulent than Obama's critics.

Read the rest of the article :
http://europumas.over-blog.com/pages/after-obama-can-clinton-rise-again--1924314.html



In this article, which is very interesting for it was not written by a pro-Hillary,( so it is impartial), Hillary is described as :

"the rat that's got away from the sinking ship" !

This is exactly what I was telling myself a few days ago : Hillary is distancing herself from Obama and his administration. She is doing her job. She is a real professional, as she has always been.

And she is waiting...
... for her time to come !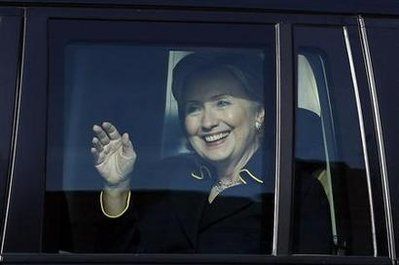 Secretary of State Hillary Clinton waves after attending a meeting with members of the business community at Queens University in Belfast, Northern Ireland October 12, 2009.
REUTERS/Cathal McNaughton