Don't expect Mister O. to take an important decision concerning the war very soon...

This is what we learn today :

President Barack Obama is unlikely to make a decision on his Afghanistan strategy and sending thousands more troops there before he embarks on his trip to Asia on November 11, a senior administration official said on Saturday.

In fact, today, Mister O. is making a last-minute campaign appearance for New Jersey Gov. Jon Corzine's re-election bid.
President Barack Obama's Democratic Party faces two tough elections for state governors on Tuesday, races that could offer clues about the party's fate in next year's congressional elections.



And now, Obama is realizing that his decreasing popularity could be a handicap for the candidate of his party.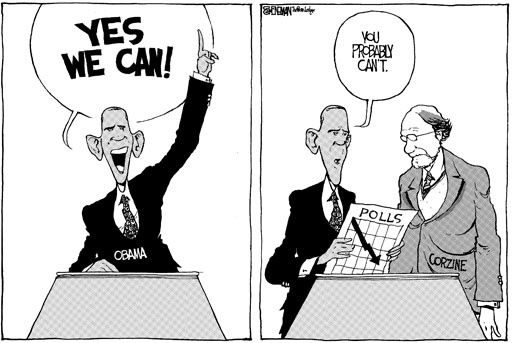 Yet, he has decided to go to New Jersey, and this might well be bad news for Corzine :
the president plans to appear with Corzine at two New Jersey campaign stops, in Camden and Newark, before returning to the White House.



The White House is aware Democratic losses would be spun as a referendum on Obama.


Early signs suggest Democrats could be in trouble. Polls show Republican candidate Bob McDonnell with a solid lead over Creigh Deeds in Virginia, a traditionally Republican state that has shifted toward Democrats in recent elections.
Perhaps more troubling for them, incumbent Gov. Jon Corzine is struggling to fend off a challenge from Republican Chris Christie in New Jersey, which usually favours Democrats.

The results could also foreshadow next year's elections, when 37 governorships come up for grabs.

So, we'd better watch these early results very carefully, for they are likely to tell much about the health of Obama' s presidency, one year after his election...

And maybe, when he sees the result on Tuesday night, Obama will realize it is high time to act like a president, and stop having fun...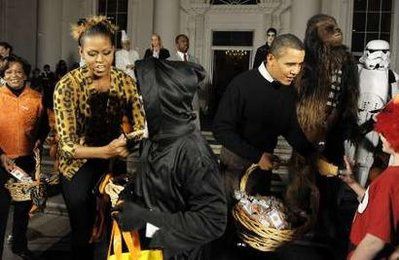 President Barack Obama, his wife Michelle Obama (2nd L) and her mother Marian Robinson (L) greet local school children on Halloween at the White House in Washington October 31, 2009.REUTERS/Jonathan Ernst (UNITED STATES POLITICS)