BARACK, MICHELLE, AND PRETTY WOMEN
Is Barack Obama the new Bill Clinton ?

Everybody knows that Bill Clinton had a real problem with women, and that this problem nearly cost him his presidency, in 1998, during the Lewinsky scandal.

What people ignore is that Barack Obama appreciates pretty women too, which irritates Michelle, and has been the source of the couple's numerous tensions.

Do you remember this recent photo, which attracted a lot of viewers on the Internet :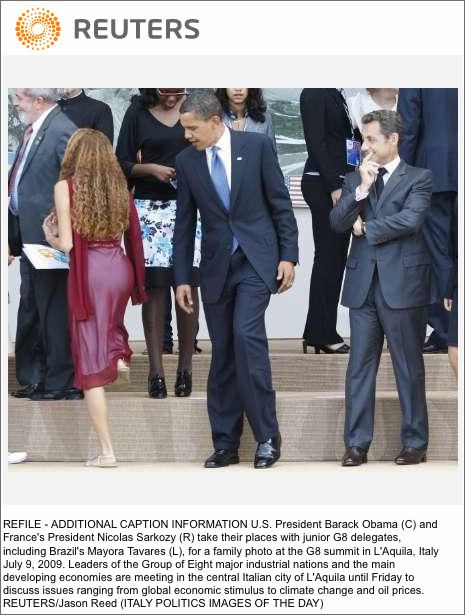 Yesterday, we told you the story of the meeting between Barack Obama and Carla Bruni in Pittsburgh.
Some of you may have thought we were making a fuss about what is only a petty story, which has no significance compared to the stakes of the G20 Summit.

Well, if you think so, you are totally wrong !
For Mister O. does have a problem with women.

Although this is something which is not well-known, as the MSM has always chosen not to speak about it, this has been surfacing recently, on the occasion of a new book published, entitled "Barack and Michelle: Portrait of an American Marriage", which describes the marital relationship of the First couple.

Christopher Andersen reveals that Michelle Obama has always been irritated by her husband's popularity with women.
So it proves we were right when we wrote here, yesterday, that she was quite furious to see her husband so close to our French first lady.



MICHELLE Obama gave her husband the silent treatment at one point in his campaign for president because so many women "pushed their bodies up against his, slipped phone numbers into his pockets" and whispered lewd suggestions in his ear, a new book out today claims.
In "Barack and Michelle: Portrait of an American Marriage" (William Morrow), Christopher Andersen reports, "On more than one occasion, Barack tried not to look startled when some random woman in the crowd would grasp him firmly by the derriere -- and sometimes try to hold on."





After an appearance in Peoria, Ill., the future president slid into the back of his SUV, and allegedly said, "Jesus, I wish they'd stop grabbing my ass."
"Michelle, understandably was not amused," Andersen writes. He quotes her as saying, ". . . I want to tell these women, 'Back off. Get a life.' It's just embarrassing, that's all."
The book relates, "Michelle knew that all the unseemly fawning nourished Barack's admittedly already oversize ego. 'He's loving it,' she muttered at one point. 'He's a man, isn't he?' Once again, she resorted to giving him the silent treatment."
Andersen cites rumors "that it was more than just the random flirting from strangers that was getting to Michelle. Her husband, it would later be reported, had grown close to an attractive young African-American woman [working for the Obama campaign] named Vera Baker.


(new york post)

Here, we have already told you the story of Vera :

http://europumas.over-blog.com/article-27082022.html


http://europumas.over-blog.com/article-26420112.html

Other articles written about the book tell the story of an indifferent Barack, preferring his political career to his family life, and leaving Michelle frustrated and thinking about a divorce :
http://europumas.over-blog.com/pages/MICHELLE_AND_BARACK_AN_AMERICAN_MARRIAGE-1757797.html

We also learn from Anderson's book that there is another woman Michelle is jealous of : Hillary !

Michelle Obama didn't favour the current Secretary of State as husband Barack Obama's vice-presidential nominee in the race to White House.
Michelle instead favoured Joe Biden, the President's eventual choice.
"Do you really want Bill and Hillary just down the hall from you in the White House? Could you live with that?" Michelle reportedly told her husband.

Apparently, Barack did not give a damn, and did the contrary : he eventually chose Hillary as Secretary of State, which must have infuriated Michelle (although she doesn't have Hillary as her roommate !
To conclude, have a look at these beautiful photos published recently by Vanity Fair where we see Barack enjoying the company of very pretty women fans :
September 22, 2009
,
7:36 PM


Washington, D.C., September 10, 2008. Photo by Jason Reed/Reuters/Landov, September 10, 2008.


St. Paul, Minnesota, June 3, 2008. Photo by Jason Reed/Reuters/Landov

Lexington, South Carolina, January 22, 2008. Photo by Astrid Riecken/The Washington Times /Landov.

Columbia, South Carolina, January 20, 2008. Photo by Gerry Melendez/MCT /Landov.


Holland, Ohio, October 12, 2008. Photo by Jim Young/Reuters//Landov.
source : vanity fair