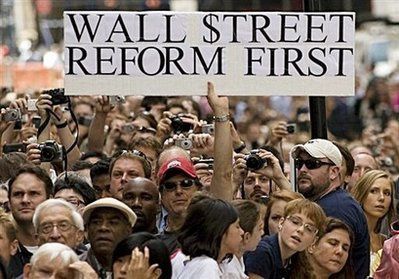 A man holds a placard outside Federal Hall in New York, NY, as US President Barack Obama delivers a major speech on the finacial crisis. Obama bluntly warned Monday that some Wall Street bosses were ignoring lessons of the financial crisis, as he demanded a new age of prudence after bloated years of unchecked excess.(AFP/File/Jim Watson


Yesterday, Bin Laden sent a message to the American people in which he clearly mocked their new president, and asked them "Where"s the Change" ?

The message, entitled "a statement to the American people", was about 10 minutes long and was accompanied by a still image of Bin Laden but no video.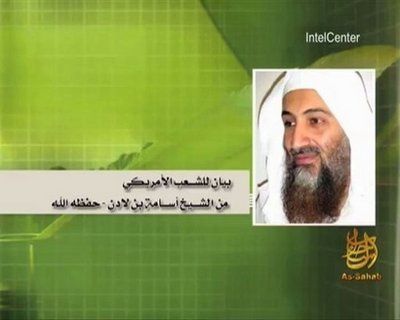 Osama bin Laden has told Americans to rethink their policies, in a new video in which he links their support for Israel to the September 11 attacks in 2001. Titled "Message to the American People," the video features a still image of bin Laden and an audio statement. Duration: 00:32(afp.com




Bin Laden claimed that the retention of figures from President George W Bush's inner circle, such as Robert Gates, the Defence Secretary, and Gen David Petraeus showed that Mr Obama was "powerless".
"Reasonable people know that Obama is a powerless man who will not be able to end the war as he promised, but rather, will continue it to the highest point possible," he said "The bitter truth is that the neoconservatives continue to cast their heavy shadows upon you."

I think Bin Laden is right...

Obama is unable to enact the change he has promised...
Think about what happened today.
Obama has just pronounced a speech addressed to Wall Street and bankers, which appears to me as a farce .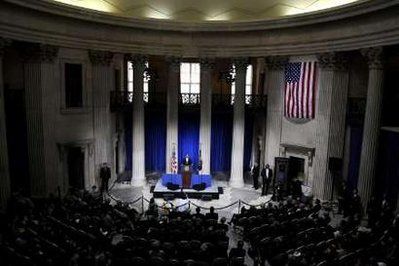 . President Barack Obama speaks about the global financial crisis at Federal Hall in New York, September 14, 2009. The address, delivered just steps from the New York Stock Exchange, called for stricter oversight of Wall Street, using the anniversary of Lehman Brothers' collapse in September 2008 to argue for sweeping regulatory changes.REUTERS/Jeff Zelevansky (UNITED STATES POLITICS BUSINESS)


In his address to the world of finance at Federal Hall in New York, he has pretended to warn bankers, who, according to him, are ignoring the lessons of the crisis :


"There are some in the financial industry who are misreading this moment. Instead of learning the lessons of Lehman and the crisis from which we are recovering, they are choosing to ignore them," said Obama. "We will not go back to the days of reckless behaviour and unchecked excess that were at the heart of this crisis, where too many were motivated only by the appetite for quick kills and bloated bonuses."


Oh, my dear !
Bankers must now be trembling, after hearing such menacing words !

Or, are they simply laughing, realizing, as Bin Laden has said, that Mister O. is in reality totally "powerless" ?