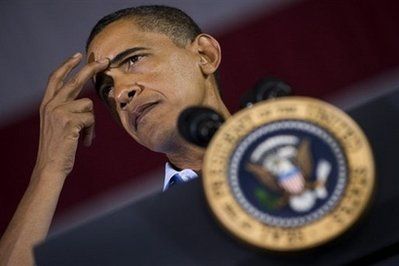 President Barack Obama is seen here on September 7, 2009. Beijing said a US decision to slap steep tariffs on imported Chinese tyres was "protectionist" and threatened retaliation in China's first trade spat with the Obama administration..
(AFP/File/Jim Watson)
Clouds are darkening Barack Obama's sky these days, and I'm not referring here to the foul weather which has hit the Eastern Coast of the USA for the last few days.
I am thinking about a number of bad news that make Mister O.'s future gloomy, and that are going to complicate his presidency in coming months.
- Yesterday Thousands of anti-Obama demonstrators poured into Washington by bus, car and plane to protest against the president's health care plan and warn about spiralling government spending.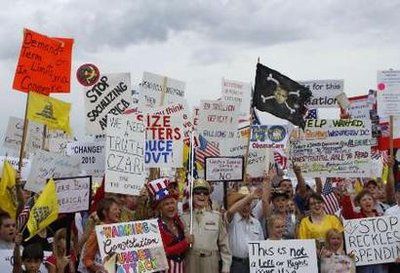 People hold signs during a "tea party" protest in Flagstaff, Arizona August 31, 2009. Organizers say the event is an effort to work against members of Congress who voted for higher spending and taxes. REUTERS/Joshua Lott (UNITED STATES BUSINESS IMAGES OF THE DAY CONFLICT POLITICS)



LINK TO VIDEO AND ARTICLES :
http://europumas.over-blog.com/pages/TEA_PARTY_IN_WASHINGTON-1718425.html

-Democrats themselves are divided over the reform, and Obama is likely to have a lot of difficulties in persuading those called « Blue Dog Democrats » to support his plan.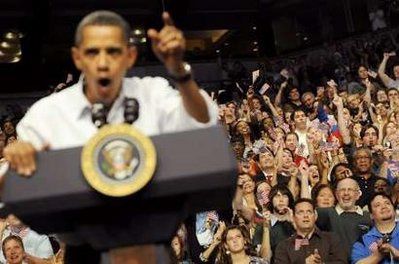 US President Barack Obama holds a rally for his health insurance reform initiatives at the Target Center in Minneapolis, Minnesota, September 12, 2009.
REUTERS/Jonathan Ernst (UNITED STATES POLITICS HEALTH IMAGES OF THE DAY)
- In foreign affairs, the situation is not better : wars are more and more unpopular ; relations are worse and worse with Iran, and now with China. http://europumas.over-blog.com/pages/OBAMA_MECONTENTE_LES_CHINOIS_OBAMA_ANGERS_CHINA-1718445.html

Moreover, Obama is challenged by his European counterparts like French president Sarkozy to regulate the financial markets, something he is not willing to do (contrary to the promise he made http://europumas.over-blog.com/article-35730254.html).


- But above all, what is darkening Obama's horizon is the doubt which persists over his ineligibility. So far, the issue had been mocked and ridiculed by the media, and birthers were portrayed as nuts, but now it is becoming more serious, and much more worrying for Mister O. and his party.
A judge has agreed to allow the Obama eligibility case filed by Dr Taitz and others to go forward.
Judge Carter has granted the plaintiffs, the Taitz legal team, "expedited discovery" in the Obama Eligibility Case.

What expedited discovery means:

Under the court ordered expedited discovery, the Taitz legal team will be allowed to force President Barrack Hussein Obama to make public his official birth certificate with the name of the hospital and other legal particulars as well as his school records including how or who paid for his education and other information that the American people have not been allowed to see up to this day. (read the whole article here : http://europumas.over-blog.com/pages/JUDGE_CARTER_ALLOWS_OBAMA_ELIGIBILITY_CASE_TO_GO_FORWARD-1718525.html)


And the Democratic Party itself is suspected of committing fraud when it appointed Obama as the official candidate to the presidential election, during the Denver Convention in August 2008
(read the article here : http://europumas.over-blog.com/pages/THE_DEMOCRATIC_PARTY_KNEW_OBAMA_WAS_NOT_ELIGIBLE-1718550.html)
We will see in January if the American judicial system is independent from the executive and legislative powers. It is high time to know the truth : where was Obama born, and did the Democratic Party cheat in the last elections ?


I don't know what the outcome of all this will be, but what I know for sure is that the sky is full of clouds for Mister O., and he does not seem to be able to fly above them...

President Barack Obama arrives onstage for a rally for his health insurance reform initiatives at the Target Center in Minneapolis, Minnesota September 12, 2009.

REUTERS/Jonathan Ernst (UNITED STATES POLITICS HEALTH IMAGES OF THE DAY)