The American media may remain silent about it, but the British press does not hesitate to reveal the news this morning :
Obama is currently facing revolt over new war plans within his own party :
http://europumas.over-blog.com/pages/A_LOT_OF_DEMOCRATS_NOW_DISAGREE_WITH_OBAMA-1716392.html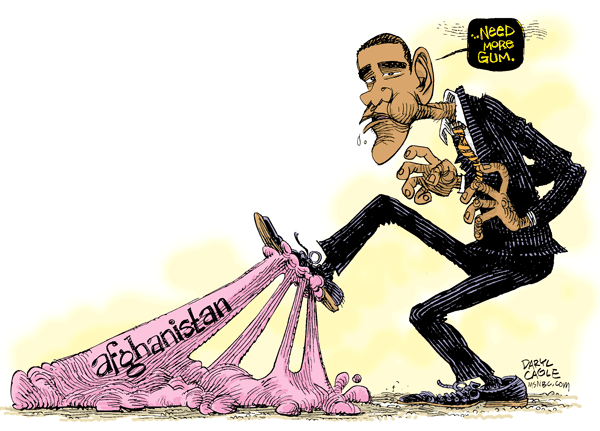 Yesterday, as he commemorated 9/11, he asserted his determination to go on fighting against Al Qaeda... the problem is he was not elected in November as a war president. That was rather the contrary : he managed to gain the youth vote, for instance, because he appeared as a pacifist.

Seeing him in the gardens of the Pentagon yesterday, I must confess I did not find him convincing.

He seems extremely ill-at-ease, but that was probably because it was raining heavily :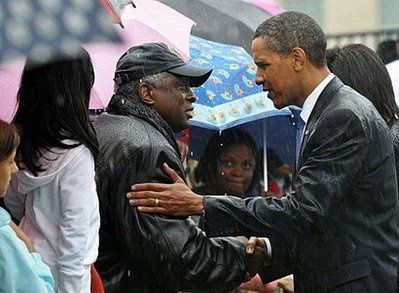 US President Barack Obama (R) greets victim's relatives and Pentagon staff during a ceremony on the eighth anniversary of the 9/11 attacks at the Pentagon in Washington, DC.(AFP/Mandel Ngan)


And now, I'm starting to ask myself if he really knows what he is doing, sending all these soldiers to death...

There may have been more than three thousand people killed in the attacks eight years ago...

But... how many are going to die for nothing ?

And Mister O. doesn't give a damn !

He may do his best to pretend that he is close to people, as he did yesterday with such grotesque snapshots :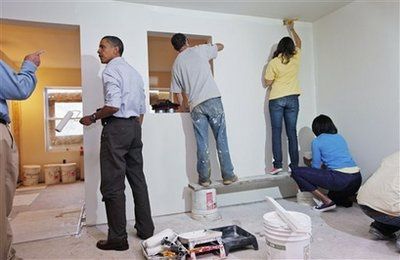 President Barack Obama, first lady Michelle Obama, and volunteers, help with painting as they tour a Habitat for Humanity project site as they highlight community service on the eighth anniversary of the Sept. 11 attacks, Friday, Sept. 11, 2009, in Washington.

(AP Photo/Charles Dharapak)

All the more grotesque, as everybody knows Michelle needs more White House employees to serve her than any other First Ladies before her, and here, she pretends to be able to paint the walls of a flat ! !...


Nobody can seriously believe he cares for people.

Such pictures are only part of the Obama communication machine...

It worked during the campaign, but I'm not sure it is still working now...