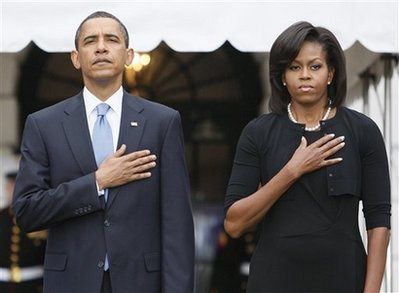 President Barack Obama and first lady Michelle Obama stand during the playing of Taps with White House staff members as they participate in a moment of silence marking the eighth anniversary of the Sept. 11 attacks, Friday, Sept. 11, 2009, on South Lawn of the White House in Washington.

(AP Photo/Charles Dharapak)






Today is Obama's first commemoration of the 9/11 terrorist attacks, and he has chosen not to go to New York, but to stay in Washington, more precisely for a ceremony due to take place in front of the Pentagon.

And he has decided too to show his determination to be tough on terrorism and Al Qaeda, in particular when he stated that he intended to continue the war in Afghanistan.
His aim is to reassert his authority abroad, after trying to do it at home, on Wednesday, when he presented himself as a boss in his address to Congress on health care.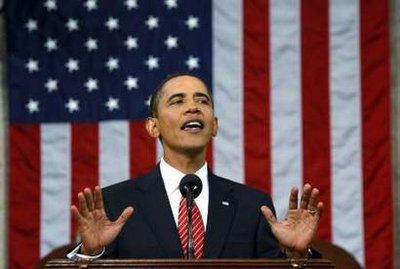 President Barack Obama delivers a speech on healthcare before a joint session of Congress in Washington, September 9, 2009.

REUTERS/Jason Reed (UNITED STATES POLITICS HEALTH)




The problem is...

Now nobody believes him when he speaks about what he intends to do in Afghanistan after the American Army killed by mistake innocent civilians.
On the domestic front, this is the same.
Although the MSM keeps telling you his Wednesday speech was a success, nobody will forget the memorable moment when he was called a "liar" by a Republican Congressman. The whole nation saw the incident ; and so did the whole world.
Obama as a figure of authority ? I've seen more convincing leaders !

Obama looked more like a teacher who cannot control his pupil, and there was bedlam in the classroom ! Have a look at this :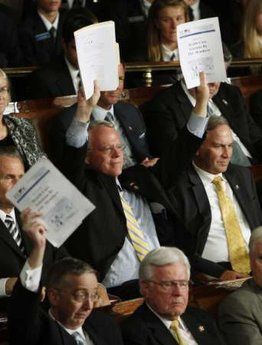 Some Congressional Republicans hold up the Republican version of the healthcare bill during U.S. President Barack Obama speaks about healthcare reform to a joint session of the U.S. Congress on Capitol Hill in Washington, September 9, 2009.REUTERS/Jim Young (UNITED STATES POLITICS HEALTH)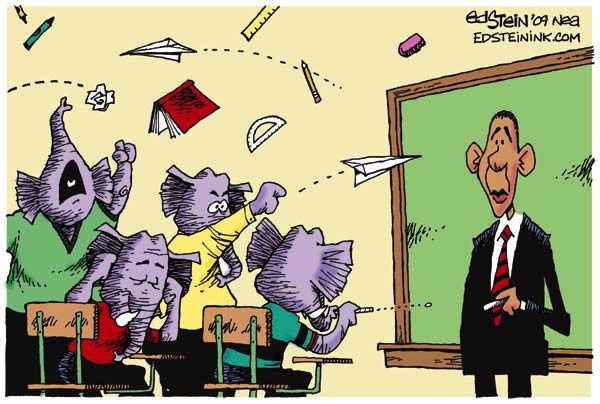 What's more, after listening to Obama's speech, it is now more and more difficult to manage to understand what he really wants to do thanks to this reform, and many say it won't improve the situation of health care in America. So what's the point in reforming a system if it does not make it more efficient, and less costly ?


In brief, on this particular day of commemoration, everybody remembers the terrible tragedy, but paradoxically America has never been so divided.
The country is not united as it should behind its president. There is no consensus. Far from it.
Not only does Obama not manage to convince his political opponents, but his ability to show the good way to his people is questioned even within his own party.

Now everybody simply wonders :
... does this man have the capacity to lead ?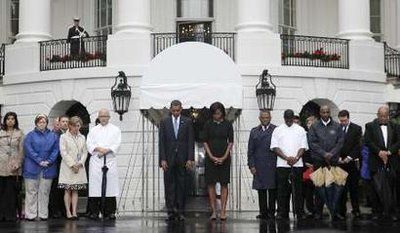 U.S. President Barack Obama and first lady Michelle Obama join staff members during a moment of silence marking the eighth anniversary of the September 11 attacks on New York, Washington, and Pennsylvania,on the South Lawn at the White House in Washington, September 11, 2009.

REUTERS/Jim Young (UNITED STATES POLITICS ANNIVERSARY CONFLICT