OBAMA, THE NEW BIG BROTHER
Is Obama's America on the verge of becoming a new totalitarian state ?
Remember George Orwell's novel, 1984 ?


Well, Obama must have read it and enjoyed it a lot, for he seems to be dreaming of controlling all his fellow-citizens, thanks to the most modern means of communication, the Internet…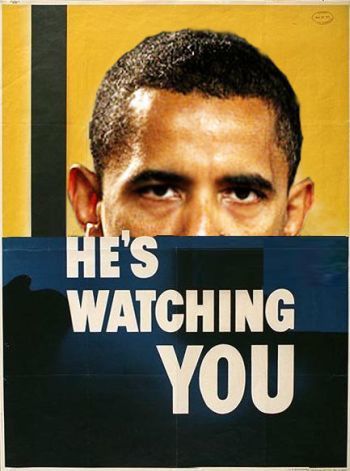 Internet companies and civil liberties groups were alarmed this spring when a senate bill proposed that the president of the United States should have executive control over the connection between private sector networks and the Internet.. ;

This control would happen in case of a cyber attack infringing on national security.
Today, they not much happier about a revised version.
According to CNET, a revised version of the bill is currently in the works by West Virginia Democrat Sen. Jay Rockefeller, which indicates that the president can take control of the connections between private sector network and the Internet during national emergencies.

Under the revised bill, the word cyber covers anything that has to do with the Internet, telecommunications, computers and computer networks. Rockefeller stated, "We must protect our critical infrastructure at all costs–from our water to our electricity, to banking, traffic lights and electronic health records."


Its understandable that some kind of safety net may need to be created in case cyber terrorists decide to try to bring down our network infrastructure to cripple the U.S. However, many are questioning the decision to give absolute power to control information to one man, the president of the U.S.
Do you know where such control exists currently ?
In countries like China, where the Net and news outlets are largely controlled by the government !

Information is power. That's why totalitarian regimes in Iraq and China don't want their citizens to have unfettered browsing access.
An now, you may add the US to the list...

Ha ! Ha ! Ha !
Obama is the new Big Brother !