In France, we have had the 35-hour working week...

Now, there is something better...

The two presidents, Sarkozy, and his "pal" Obama, have just created a new concept, which will undoubtedly become very popular in French and American companies in coming months :
the two-day work week !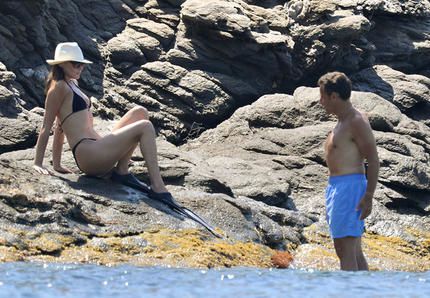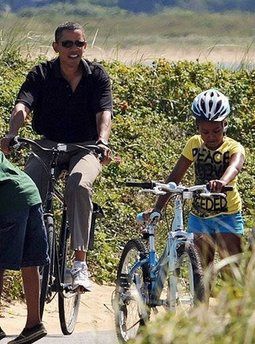 Imagine for a while...

You have dreamt of it ! You work two days in the week, on Mondays and on Tuesdays...

Then, on Wednesdays, it is over ! Your week-end has started...

Does it seem to you unconceivable ? impossible to achieve ?


Well, let me give you piece of advice : if your boss is reluctant to grant you this special timetable, tell him that the president himself has adopted this new way of life, and, isn't he supposed to be a model for his fellow-citizens ?

Be confident... The two big bosses, the French, and the American, have just taught us how to be cool, from now on.


Have a look at their respective schedule :

-

Sarkozy

: on holiday for 25 days in the South of France, near Le Lavandou (he started his vacation at the beginning of August)
Then, on Monday, August, 24 : he was supposed to go back to Paris, but he was unable to do so, so he asked his Prime Minister, François Fillon, to come to see him on the beach. There, they prepared the Cabinet meeting scheduled the day after !


So, Sarko headed back to Paris on Tuesday, 25 to attend to his cabinet meeting, pretend to frighten bankers and to make them obey his orders, and. then ...
On Wednesday, 26, after introducing his plans for a national loan, he decided to...
go on holiday again !

Why ?

Because of his wife,Carla, who had stayed in the South of France alone ! !
Poor little girl !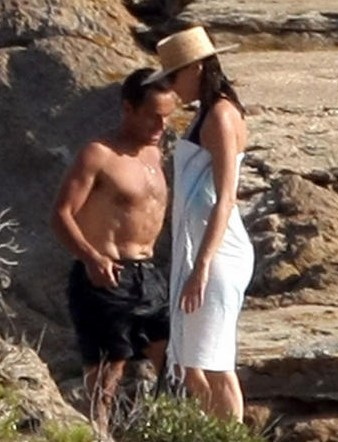 Now we have learnt that he will probably stay there until the first of September...



-

Obama

:
as far as he is concerned, this is worse, when you think he has only been in power for seven months...

But he is already very tired !


Since the beginning of the summer, he has been off every week-end, generally resting at Camp David. Last week, he spent four days in Arizona, visiting national parks, and Grand Canyon, then he came back to Washington, to pretend to work for a few days, then...
last Sunday , he went to Martha's Vineyard, where he still is, at the moment.


Tomorrow, he will leave, because he plans to eulogize Kennedy at the senator's funeral Saturday morning in Boston, making the brief hop from Martha's Vineyard to the mainland and then returning to Blue Heron Farm, his rented getaway (from 25,000 to 50,000 dollars a week !), for one more night.
He will return to Washington on Sunday.

Next week, the president will have a health care event Tuesday and then ...


he will go on holiday again !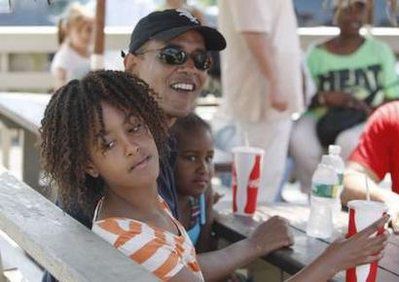 He has planned to travel to Camp David on Wednesday ahead of the Labor Day weekend.

Why ?

Is it, like Sarkozy, because of his wife unable to live without him ?
No, it isn't ! I guess this is the contrary, for you may have remarked that we don't see much of Michelle on the photos taken at Martha's Vineyard... I wonder where she is...

The reason why Obama needs another holiday is that his week in Martha's Vineyard has not offered much rest to him... because a lot of things happened and he was obliged to break his holiday (a little : to name Bernanke, to shed crocodile tears on Kennedy's death, etc... very tiring indeed !)


Poor little one !

He hasn't had enough rest, has he ?



And, what does he think about all those Americans who can't even afford a little holiday ?

In any case, what is really irritating about Obama and Sarko is that they are cunning enough to make people believe that they are workaholics !

I often hear people around me who say :

"They deserve some vacation, they work so much !"


Do they ?

With all the problems that American and French people have to face, their presidents had better do than sunbathe in luxurious estates.

I'm not sure this is what people expected from them, when they voted for them...