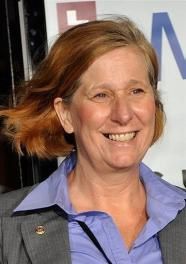 I often write about all the false promises Obama made during the campaign, and all the lies he said.

Now there is one very famous woman who seems to agree with me : Cindy Sheehan, perhaps the most outspoken and most visible anti-Iraq war protestor,.

Do you remember her ?


Cindy Sheehan's son Casey was killed in Iraq in 2004 when he volunteered for a rescue mission in Sadr City. She became a prominent symbol of the anti-war movement with her protests against then-President George W. Bush. She spent weeks dogging his presidential vacations, pitching a peace camp near Bush's ranch in Crawford in Texas.

Now she is doing the same with the new president, and she denounces the lack of change of Mister O.' s policies.






"The reason I am here is because ... even though the facade has changed in Washington DC, the policies are still the same," she said.

There were hundreds of other demonstrators with her, and she urged all Americans to "wake up" and realize that Pres. Obama is escalating the war in Afghanistan.

She further complained that, while Pres. Obama's anti-war stance throughout the Presidential election campaign, US troops still remain in Iraq. "We have to realize, it is not the president who is power, it is not the party that is in power it is the system that stays the same, no matter who is in charge. We are here to make the wars unpopular again."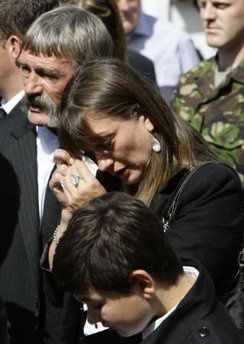 John McAleese (L), former member of the SAS, reacts as a hearse containing his son Paul's coffin is driven through the streets of Wootton Bassett, in Wiltshire in south west England August 27, 2009. Sergeant Paul McAleese of the 2nd battalion The Rifles was killed in Afghanistan this week and repatriated today.REUTERS/Stefan Wermuth (BRITAIN MILITARY OBITUARY CONFLICT POLITICS)




Cindy Sheehan is another proof that Obama's America is the same as Bush's America.
A lot of people voted for him because they resented Hillary for her "War vote" in the Senate.

Now I hope they are realizing they have been deceived by the Liar-in-Chief, wishing they had made another choice...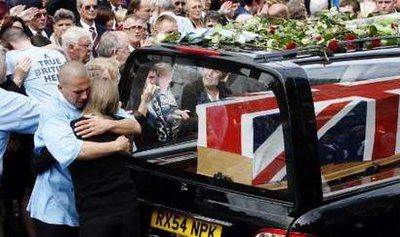 Mourners react as the coffins of four soldiers killed in Afghanistan are driven through the streets of Wootton Bassett, in Wiltshire in southwest England August 21, 2009. Four British soldiers who died whilst serving in Afghanistan were repatriated on Friday.
REUTERS/Luke MacGregor (BRITAIN MILITARY CONFLICT)
Let me tell you something : I am not "heartbroken" like Obama by Kennedy's death...
But what breaks my heart, is when I see such pictures and such tragedies...