America, where are you going ?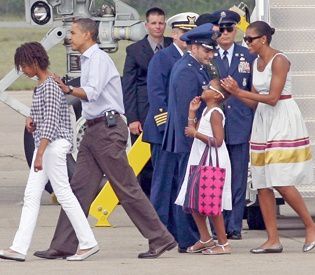 President Obama, his wife Michelle and daughters Malia and Sasha arrive at the Cape Cod Coast Guard Air Station before hopping on the Marine One helicopter to make their way to Martha's Vineyard.

The country is facing an unprecedented recession, but nobody cares...

Tomorrow, some depressing figures are due to be released, showing a record deficit never seen in history, but nobody cares...

From Reuters this morning :

President Barack Obama's domestic policy proposals will face the reality of skyrocketing deficits on Tuesday when officials release two government reports projecting huge budget shortfalls over the next decade.
The White House budget office and the Congressional Budget Office (CBO), a non-partisan arm of Congress, release updated economic forecasts and deficit estimates on Tuesday, providing further fiscal fodder to opponents of Obama's nearly $1 trillion healthcare overhaul plan.
Many of the figures are already known.
The White House has confirmed that its deficit estimate for the 2009 fiscal year, which ends September 30, will inch down to $1.58 trillion from $1.84 trillion after eliminating billions of dollars originally set aside for bank rescues.
Looking forward, an administration official told Reuters the 10-year budget deficit projection will jump by about $2 trillion to roughly $9 trillion from an original forecast of $7.1 trillion.
"One message the numbers will send is that the medium- and long-term deficits need to be addressed," said Chuck Marr, director of federal tax policy at the Washington-based Center on Budget and Policy Priorities, an analysis and research organization.
Obama has promised to do that. The president, a Democrat, says he will cut the deficit in half by the end of his four-year term, and he sees lowering healthcare costs as a key ingredient toward achieving long-term deficit reduction.


Ha ! Ha ! Ha !

He has promised to cut the deficit in half, hasn't he ?
But... isn't he doing exactly the contrary ?



Anyway, who cares ?

The MSM is all too busy admiring the Obama family arriving in Massachusetts : what a beautiful family !

Oh ! Look at Michelle ! She is not wearing shorts, this time ! She has got a white dress... How elegant !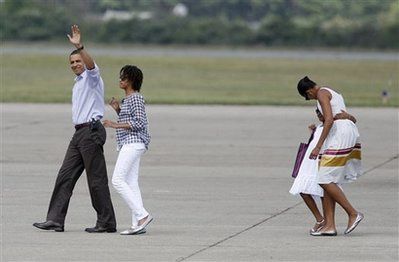 President Barack Obama waves to as he escorts his daughter Malia, and first lady Michelle Obama walks with their daughter Sasha after arriving at the Cape Cod Coast Guard Air Station in Bourne, Mass., en route to a vacation on Martha's Vineyard, Sunday, Aug. 23, 2009.
(AP Photo/Stew Milne)


America has become the Titanic...

But nobody cares !