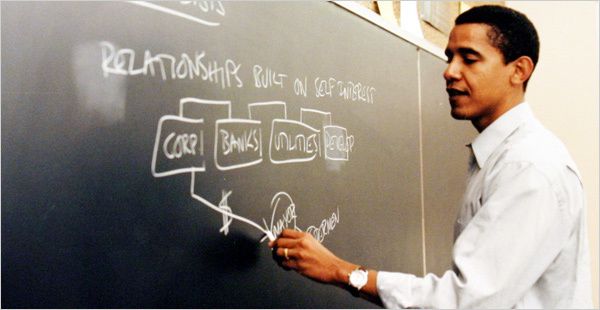 Roughly 50 million school children in the United States will head back to the classroom soon…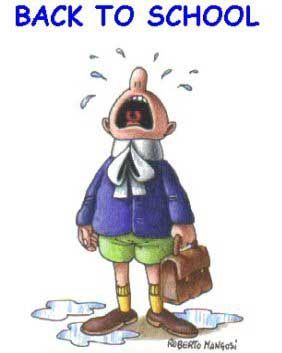 Well, this year, they will not be alone...

Mister O., will go with them !

After his holiday in Martha's Vineyard, the president will also go back to school with his two daughters, and with all American kids…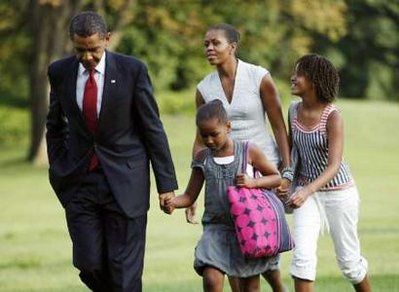 .S. President Barack Obama holds hands with his daughter Sasha upon landing at the White House in Washington August 17, 2009. Also pictured are first lady Michelle Obama and daughter Malia.REUTERS/Kevin Lamarque (UNITED STATES POLITICS)


The Associated Press has just revealed that the president will appear in a back-to-school television special with singer Kelly Clarkson and basketball star LeBron James next month.
Obama is appearing in a 30-minute documentary that will air at 8 p.m. Sept. 8 on BET, MTV, VH1, CMT, Comedy Central, Spike TV and Nickelodeon, all of them Viacom networks.


In the program, Mister O. says education is the key to people living out their dreams :
"So as this new school year begins, I urge you to set goals for your own education: to study hard and get involved in your school, to try new things and find something you're passionate about (..)
"And that's how our nation will get ahead — by ensuring that every American gets a world-class education, from preschool to college to a career. »

Very original, isn't it ?

In any case, a few days before going back to school, let's ask ourselves today : what is Obama's project as far as education is concerned ?

A centerpiece of President Obama's education reform effort is the Race to the Top Fund, $4.35 billion in grants to improve America's schools.


The initial draft of the Race to the Top regulations says that states barring the use of student achievement data to evaluate teachers would not be eligible to receive the federal funds. (for instance, California has such a law)
Obama's Education Secretary Arne Duncan thinks at least some correlation between student performance and teacher assessment is necessary.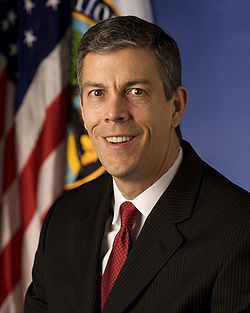 An article written in the New York Times by Sam Dillon a few days ago explains how Obama is working to put his policy in place.

Here are some key extracts :


"Holding out billions of dollars as a potential windfall, the Obama administration is persuading state after state to rewrite education laws to open the door to more charter schools and expand the use of student test scores for judging teachers.


(...)

The aggressive use of economic stimulus money by Education Secretary Arne Duncan is provoking heated debates over the uses of standardized testing and the proper federal role in education.


A recent case in California where legislative leaders are vowing to do anything necessary, including rewriting a law that prohibits the use of teachers' evaluations, to ensure the state is eligible for a chunk of the $4.3 billion the federal education department will soon award to a dozen or so states. The law had strong backing from the state's teachers union.
(...)


The administration's stance has caught by surprise educators and officials who had hoped that Mr. Obama's calls during the campaign for an overhaul of the No Child Law would mean a reduced federal role and less reliance on standardized testing. The law requires schools to bring all students to proficiency in reading and math by 2014 and penalizes those that do not meet annual goals."



So it seems Obama has changed his mind once again...

And now he is betraying the teachers, although they were a majority to vote for him last fall...


Since when is it fair to penalize teachers for what any student does not achieve?
Is a teacher capable of providing brainpower in every child's skull?
So far, some states have not succumbed to this temptation of $4.3 billion.
I think they are right, because, according to me, this will be a waste of money (another one !), which is, in times of recession, unacceptable and impossible to understand !
As a teacher myself, I do not agree at all with his view of placing all blame on teachers if students fail to meet his prescribed standards is unfair. I do not mean the teacher is not responsible, but he is not the only one responsible for a student's success or failure.
To say the contrary as Mister O. does shows that he does not know anything about education. And he'd better stop proposing reforms which are costly, and totally useless.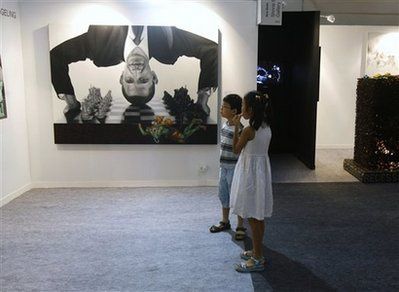 A painting depicting U.S. President Barack Obama is displayed at the India Art Summit, in New Delhi, India, Wednesday, Aug. 19, 2009. The annual four-day art fair ends Saturday.
(AP Photo/Manish Swarup)
According to me, this perfectly illustrates Obama's America !