IMAGE DU JOUR / TODAY's PICTURE

Ainsi donc, pour nos amis américains, le mot "Socialisme" est une menace pour leur pays, et leur fait très peur ?

Voilà qui va faire plaisir à Martine Aubry !

So our American friends are viewing the term "Socialism" like a threat for their country, and they are afraid of "Socialist" policies, aren"t they ?

I'm sure Martine Aubry, the leader of the French "Parti Socialiste" will be pleased to learn that !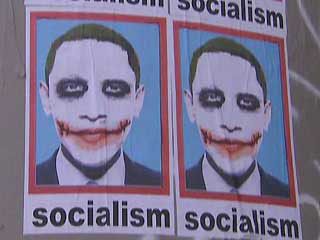 These posters portraying President Obama as The Joker have been spotted all over the country. (FNC)


Dozens of the posters first appeared earlier this month throughout Los Angeles, portraying Obama as Batman's nemesis from "The Dark Knight," with the word socialism printed above and below the commander in chief's face. The posters depicted Obama with sloppy red lipstick, a white face and darkened eyes, the same make-up that late actor Heath Ledger wore throughout the latest Batman movie.
Police in Florida have questioned a teenager who admitted to hanging dozens of posters depicting President Obama as the Joker, and suggested that the prank could be part of a nationwide contest launched by a conservative talk show host to brandish the posters everywhere. (source : LA Times)

update :(source : Fox News)
A 20-year-old college history major of Palestinian descent who supported Rep. Dennis Kucinich's presidential candidacy is the anonymous artist who turned a Time magazine cover photo of Barack Obama into the nefarious Joker of the Batman series, The Los Angeles Times reported Tuesday.



Un Barack Obama remaquillé - façon Heath Ledger - en Joker, le machiavélique ennemi de Batman. Peau blanche comme la craie, yeux fardés de noir, et lèvres maquillées d'un rouge écarlate. Le tout encadré d'une même expression, en lettres capitales: «Socialism». L'affiche fleurirait sur les murs de Los Angeles, à en croire le site conservateur American Thinker. Et cela «ne fait que commencer», prévient-il.
Les premières traces du détournement, vaguement inspiré des affiches «Hope», remonteraient au mois d'avril, selon un site américain. De manière inexpliquée, l'affiche refait surface ces derniers jours, à Los Angeles. Le «Joker» Obama aurait également été aperçu du côté d'Atlanta.

On apprend aujourd'hui dans le LA Times que la police de Floride a arrêté un adolescent qui a admis avoir affiché des douzaines de ces posters, à Clermont.

Mise à jour :
C'était donc un jeune étudiant en histoire d'origine palestinienne, qui a soutenu la candidature démocrate de Dennis Kucinich qui a réalisé ce poster...