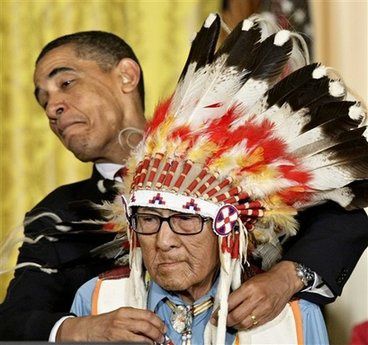 President Barack Obama presents the 2009 Presidential Medal of Freedom to Joseph Medicine Crow during ceremonies at the White House in Washington, Wednesday, Aug. 12, 2009.
(AP Photo/J. Scott Applewhite)


The situation in America is becoming increasingly worrying, economically and socially, and yet, Mister O. has decided to enjoy himself.

Today, he is leaving with his family for the West, probably to forget everything from bad polls to angry town hall meetings, and a recession which is still real, in spite of a media campaign to make people believe the crisis is over...

Not only is Obama going to have fun during the week-end (which I really find indecent, seeing the situation of his fellow-citizens), but he is also going to prevent tourists from visiting the national parks and the Grand Canyon !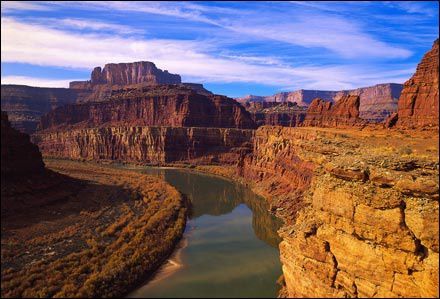 Read this from the Arizona Republic this morning :


Planning to end your summer with a visit to the Grand Canyon this Sunday?
You may wind up staring at roadblocks and Secret Service agents rather than a splendid abyss and towering cliffs.
David Eaker, a National Parks spokesman, said tourists should expect "some closures and some delays" as President Barack Obama and his family tour one

Air Force One is scheduled to arrive in Tusayan at 10 a.m. Sunday, and the Obama family will spend about seven hours touring the Canyon before flying back to Phoenix. For security reasons, Eaker said, authorities will not announce details of the first family's itinerary, so it is impossible to know in advance which South Rim roads and attractions may be closed at any given time.
Crowds are typical at the Canyon in mid-August, and the numbers are expected to swell this weekend because the Park Service has waived admission fees that normally cost $25 per vehicle or $12 for pedestrians.
"It is a busy time," said park spokeswoman Maureen Oltrogge, noting that campgrounds and area hotels are typically full. "People are taking the last bit of vacation before kids head off to school."
Asked about the Obamas' visit on a fee-free weekend, Eaker said it is sheer coincidence, then chuckled at a suggestion that the president's family might be scrimping on its budget.
The Grand Canyon attracts nearly 5 million visitors annually from around the world, most of them drawn to the accessible South Rim where the Obama family will tour.
Eaker said a National Parks team has helped plan the presidential excursion, trying to minimize the impact on visitors. At the same time, he added, the White House and Park Service are working to create a private atmosphere for the Obamas and their two children. A White House news release stresses that the Canyon visit "will be closed to the press," and Grand Canyon Airport will be closed to the public during presidential arrivals and departures.
(source : "Obama trip may cause disruptions at Grand Canyon : Parks officials warn tourists of possible closures, delays" The Arizona Republic)


The more I see him in the White House, the more depressed I feel...




And I remember what was happening last year, at this time, in mid-August : the Democratic Convention was going to take place in Denver...
And people were going to make the wrong choice...

Now they must be wondering "What have we done ?"...