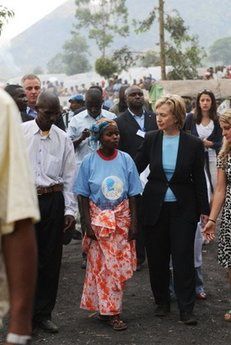 US Secretary of State Hillary Clinton (right) speaks to a refugee as she tours a refugee camp on the outskirts of Goma in the Democratic Republic of Congo on August 11. Clinton has taken her campaign for good governance to Nigeria, hoping to deepen ties with the African power but also help fight corruption and religious strife.
(AFP/Roberto Schmidt)



Barack Obama has committed an impressive number of gaffes and blunders, either during the presidential campaign, or since he became president.

But each time, the US press has minored them, keeping silent or simply mentioning them without further comments or controversies.

I wish journalists could treat Hillary Clinton in the same way, but it is not the case, on the contrary.

For two days, the press has been targetting her, covering in depth an incident which happened in Congo.

From the Daily Telegraph :

During a visit to Kinshasa a student asked the US Secretary of State about the thoughts of President Barack Obama. But the translator mistakenly said "Mr Clinton" instead of "Mr Obama".
He said: "We've all heard about the Chinese contracts in this country. The interference is from the World Bank against this contract. What does Mr Clinton think through the mouth of Mrs Clinton and what does Mr Mutombo think on this situation? Thank you very much."
Dikembe Mutombo is a 7ft 2in tall former basketball player who was Mrs Clinton's guide in Kinshasa and was sitting beside her.
What she thought was the question clearly touched Mrs Clinton's rawest nerve. Piqued by the student's question her response appeared to be less than becoming for America's top diplomat. Looking aghast as she heard the translation in the headset, she then took a breath and let rip.
"You want me to tell you what my husband thinks? My husband is not the Secretary of State, I am. You ask my opinion. I will tell you my opinion; I'm not going to channel my husband."

But the US press showed little sympathy to her outburst in Kinshasa. "Hill: I Wear The Pants" was the front page headline in the New York Post.
"Hey, I'm The Boss, Not Bill," said the New York Daily News.
Cable television was no kinder. "Secretary Smackdown" said MSNBC.
"Hillary: Still Angry After All These Years", wrote John Hinderaker on his Power Line blog.
"The Clintons' 'two for the price of one' shtick was always pretty weird. Hillary Clinton's one great career move was marrying Bill, a political genius.
"But she often seemed to be burning with rage because her own equal, if not superior, merit was going unrecognised. That's never really changed."
He added that it was "remarkable to think that this angry woman - who, by the way, looked unprofessional to put it kindly - is our nation's chief diplomat".
The hapless student approached Mrs Clinton after her sharp response and told her that he had meant to ask about what Mr Obama. Mrs Clinton flashed a sheepish smile and told him not to worry about it.

Let me tell you that I am fed up ! Fed up with this double standard...

During the campaign, it was the same. Sarah Palin was portrayed as a silly woman and Obama was a God.
In France in 2007, during the presidential campaign, it was the same again : Sarkozy was a hero ; Ségolène Royal was "Bécassine" (a famous French character, who is a nice and innocent girl from Brittany, full of good intentions and energy, but not very intelligent..)

When will women receive the media coverage they deserve, either in the US or in France ?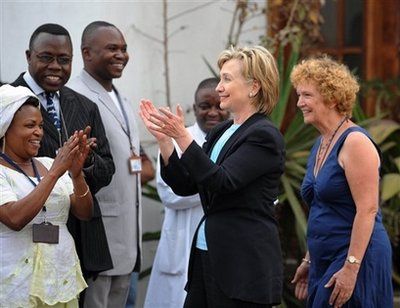 US Secretary of State Hillary Rodham Clinton, center, gesture as she is greeted by patients and staff of the Heal Africa clinic in Goma, Congo Tuesday Aug. 11, 2009. Others are unidentified.
(AP Photo/Roberto Schmidt, Pool)