Barack Obama's plan to reform health care is starting to anger a lot of American citizens :

From the Daily Mail this morning :

A growing public rebellion over President Obama's plans to overhaul U.S. healthcare has led to angry flare-ups across America.
Mr Obama's popularity has plunged over the issue - and it is fast becoming the biggest crisis of his presidency.
Critics claim the administration has underestimated the strength of grass roots feeling over healthcare in its urgency to push through ambitious new laws.

President under pressure: Rebellion is growing across the U.S. over the 'Obamacare' reforms


This cultural divide is expected in Washington, where partisan politics is a fact of life.
But the White House is quickly finding out that the battle over healthcare reform is going to be fought out across the rest of the country.
With lawmakers gone from Washington for a month-long recess and much of the overhaul plan still to be written when they return, the rancorous debate has spread to town hall meetings, TV, radio and the internet, and to local campaigns.
Democrats are trying to play down incidents like the scuffles that broke out after an ugly shouting match at a meeting held in Ybor City, Florida, to discuss the pros and cons of Mr Obama's plans.


Democrat Congresswoman Kathy Castor was forced to give up on her attempts to voice her support for the reform after being drowned out by rowdy protesters. One man had his shirt ripped in the fracas.

President Obama said on Wednesday that there will be an overhaul of the healthcare system before the end of the year whether or not he has bipartisan support.
'It's going to be a long hot summer,' said one Democrat strategist.


And Sarah Palin has just attacked Obama's plan too :
Yesterday, she blasted his health care proposals as "evil," saying in a statement that the plan would include a bureaucratic "death panel" that would decide who gets assistance.
In a statement posted Friday on her Facebook social networking website, Palin -- who on July 26 resigned as governor of Alaska -- attacked the "nationalized health care plan that the current administration is rushing through Congress."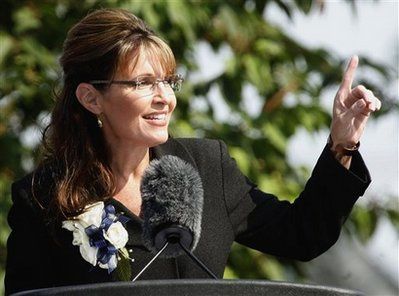 In this Sunday, July 26, 2009, Alaska Gov. Sarah Palin gives her resignation speech in Fairbanks



"And who will suffer the most when they ration care?" Palin asked. "The sick, the elderly, and the disabled, of course."

Obama has not been wise : has he forgotten what happened in 1993, when Bill and Hillary tried to convince Americans that they had to pay for a universal health care ?
He should have known better : to pay for the uninsured is NOT in Americans' mentalities.

I know that we, French people, may find it strange and a little revolting, but this is the choice of the American citizens, and nobody has to impose onto them something they reject...

Mister O. is in deep trouble...