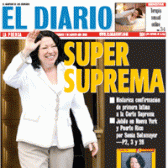 This morning, "El Diario", which is Hispanics' favourite newspaper in New York, is celebrating Sonia Sotomayor with the following headline :
"Super Suprema.



Yesterday, the Senate voted Thursday to confirmMrs Sotomayor as the first Hispanic Justice on the U.S. Supreme Court in a 68-31 vote.
Born in the Bronx, she became the 111th justice and third woman to serve on the high court


"People in New York and Puerto Rico are so Happy !" the tabloid writes.
Sonia Sotomayor's family is from Puerto Rico.

Sotomayor will be sworn in Saturday at the U.S. Supreme Court. Roberts will first administer the constitutional oath in a private ceremony in the Justices' conference room attended by members of Sotomayor's family. Roberts will then administer the judicial oath.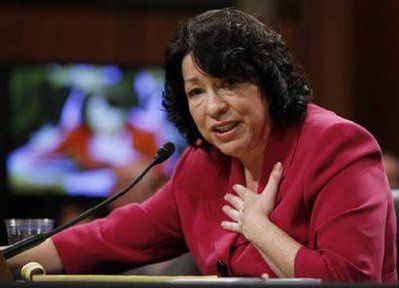 .Supreme Court nominee Judge Sonia Sotomayor answers a question during her fourth and final day of testimony at her U.S. Senate Judiciary Committee confirmation hearings on Capitol Hill in Washington July 16, 2009.REUTERS/Jason Reed/Files