French version ; English version below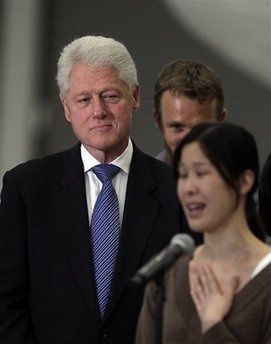 Bill Clinton vient d'atterrir aux Etats-Unis avec les deux journalistes grâciées par King Jong-Il.
Il va maintenant se rendre auprès du président Obama pour lui rendre compte de sa mission réussie, qui a abouti à la libération des deux jeunes femmes, alors qu'elles avaient pourtant été condamnées à douze ans de travaux forcés.
Le porte-parole de la Maison Blanche, Robert Gibbs, vient d'annoncer la nouvelle. Obama s'est félicité de l'issue heureuse du voyage de l'ancien président, qu'il a qualifié d'"extraordinaire".


Je suis si contente que Obama lui rende hommage !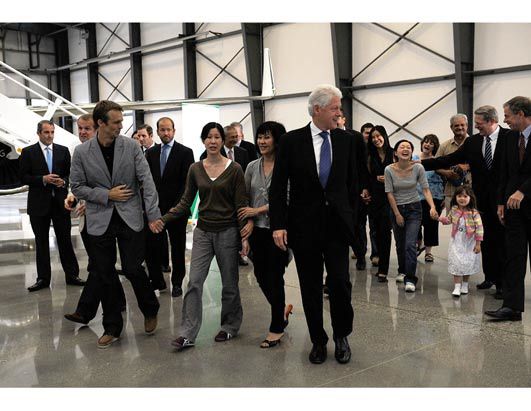 Journalists Laura Ling, husband Iain Clayton and mother Mary Ling walk with former President Bill Clinton as Ling arrives with Euna Lee who is talking with former Vice President Al Gore at Hangar 25 on August 5, 2009 in Burbank, California after being released by North Korean authorities yesterday. Ling and Lee, of San Francisco based Current TV, were both arrested by North Korea in March for illegally entering the country on the Chinese border. Yesterday they were pardoned by President Kim Jong-Il after a meeting with former U.S. President Bill Clinton. Ling and Lee had been sentenced to 12 years in prison in June.
(Kevork Djansezian/Getty Images for Shangri-La)




Selon l'agence de presse AFP, le déplacement de Bill Clinton en Corée du Nord est "historique", et l'ancien président mérite d'être congratulé et remercié:

"En larmes, les deux journalistes américaines ont retrouvé leur famille ce mercredi, grâce à Bill Clinton, qui a réussi à obtenir leur libération au cours d'un voyage en Corée historique qui ouvre de nouvelles perspectives de dialogue avec cet Etat totalement coupé du monde."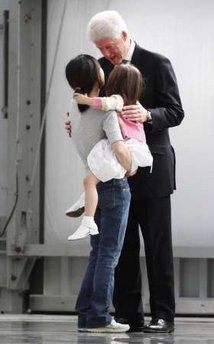 Freed U.S. journalist Euna Lee (L) is embraced by her daughter Hana Saldate and former U.S. President Bill Clinton after arriving with fellow freed U.S. journalist Laura Ling from North Korea in Burbank, California August 5, 2009. Ling, 32, and Lee, 36, American journalists freed by North Korea after months of detention, returned to the United States on Wednesday accompanied by Clinton, who secured their release in a meeting with the reclusive state's leader Kim Jong-il.
REUTERS/Danny Moloshok (UNITED STATES POLITICS MEDIA IMAGES OF THE DAY)





Même si certains sont déjà en train de critiquer la mission de Bill, sous prétexte qu'elle ne fait que servir les intérêts de Kim Jong-Il et sa propagande, pour ma part, je voudrais simplement dire ceci : c'est si bon de revoir Bill Clinton sur la scène internationale de nouveau.



Et de plus, les scènes de retrouvailles entre les deux journalistes et leur famille sont vraiment très très émouvantes...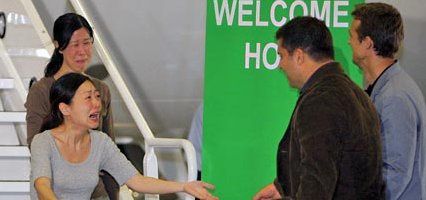 Merci, Monsieur Clinton !

Bill, tu nous a manqué !

Pas de doute : tu es vraiment le "comeback kid" !