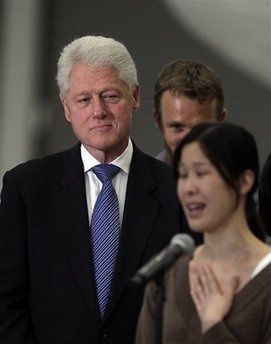 Bill Clinton has just landed in the USA with the two US journalists pardoned by North Korean leader Kim Jong-Il.
He will report to US president Barack Obama about his North Korean mission which has led to the release of the two US journalists who had been sentenced to 12 years of hard labour.
White House spokesman Robert Gibbs announced the news. Obama has welcomed the good result of the mission and has underlined the ''extraordinary'' work of the former president.

I am glad Obama has paid a tribute to him !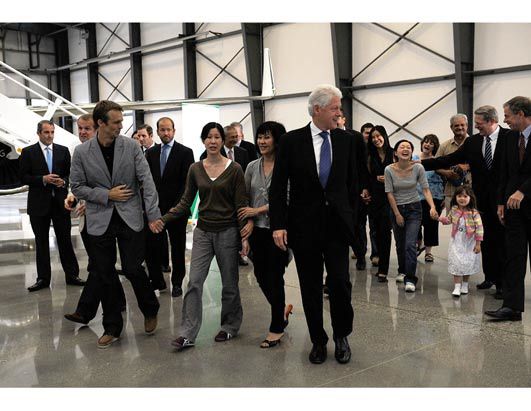 Journalists Laura Ling, husband Iain Clayton and mother Mary Ling walk with former President Bill Clinton as Ling arrives with Euna Lee who is talking with former Vice President Al Gore at Hangar 25 on August 5, 2009 in Burbank, California after being released by North Korean authorities yesterday. Ling and Lee, of San Francisco based Current TV, were both arrested by North Korea in March for illegally entering the country on the Chinese border. Yesterday they were pardoned by President Kim Jong-Il after a meeting with former U.S. President Bill Clinton. Ling and Lee had been sentenced to 12 years in prison in June.
(Kevork Djansezian/Getty Images for Shangri-La)




According to the news agency AFP, Bill Clinton's trip is "historic", and he deserves to be congratulated and thanked :

"Two US journalists tearfully reunited Wednesday with their families after Bill Clinton won their freedom on a historic trip to North Korea that opens up new possibilities for dialogue with the hermit state."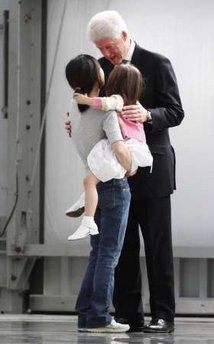 Freed U.S. journalist Euna Lee (L) is embraced by her daughter Hana Saldate and former U.S. President Bill Clinton after arriving with fellow freed U.S. journalist Laura Ling from North Korea in Burbank, California August 5, 2009. Ling, 32, and Lee, 36, American journalists freed by North Korea after months of detention, returned to the United States on Wednesday accompanied by Clinton, who secured their release in a meeting with the reclusive state's leader Kim Jong-il.
REUTERS/Danny Moloshok (UNITED STATES POLITICS MEDIA IMAGES OF THE DAY)





Although some have started to criticize Bill' s mission, saying it is only a boon for Kim Jong-Il, and will serve his propaganda, l only want to say one thing : it is so good to see Bill Clinton back on the international stage again.

And these scenes of reunion between the two journalists and their families are so moving.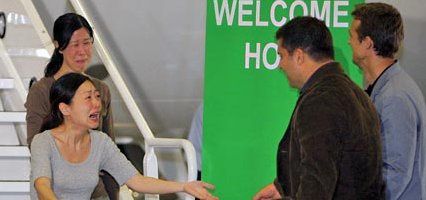 Thank you, Mr Clinton !

Bill, we've missed you !

You are really the comeback kid !