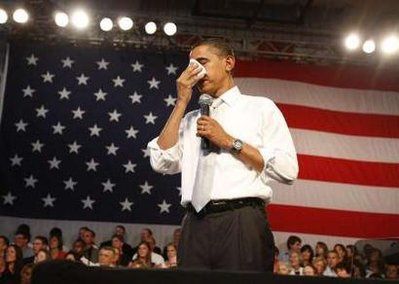 Mister O. Will go on holiday in a few days, and I personally think it is a very good idea...
Although he was elected only a few months ago, he already seems exhausted, and he gives the impression to have lost the energy and dynamism he displayed during the presidential campaign, sometimes looking like an old man whereas he will be only 48 years old on Tuesday !

I even wonder if he still enjoys being president...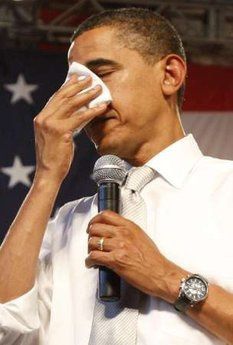 His lack of enthusiasm was pretty obvious on Friday evening, when he and Joe Biden left the White House on foot to go to Blair House, a government guesthouse across the road, where all 22 cabinet members and several senior aides discussed policy over dinner.


The meeting lasted more than four hours, and although Obama's spokesman insisted it was not a crisis meeting, the president and his team have plenty to worry about : plummeting opinion poll ratings, divisions among Democrats about healthcare reform and distracting rows about Wall Street bonuses, economic stimulus programmes and racial politics...
Now Obama has gone to Camp David for the weekend, but I'm not sure these two days of rest will be enough to give him hope and confidence again.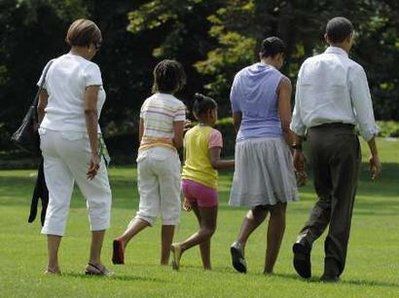 That was yesterday : the Obama family going away for the week-end...
Even if he is asserting that the US economy is beginning to recover from the recession, Obama has been honest enough to acknowledge that signs of an upturn in economic activity had yet to benefit millions of Americans who have lost their jobs and homes to the recession.
Moreover, he seems powerless, which is quite surprising for this is only the beginning of his presidency. He does not seem to possess the necessary qualities to convince Congress to adopt his proposals, and this is quite worrying for the future of the country.
His proposals to combat climate change (a global deal to prevent world temperatures increasing by more than 2C) have been emasculated by Congress.
His healthcare reform bill (based on cost cutting and covering the uninsured) is in trouble. His own party seems divided over it, and when he gave his health care press conference a few days ago, nobody really understood what he said :
Who pays? How much? What about the threat to quality?
Obama failed to answer these simple questions…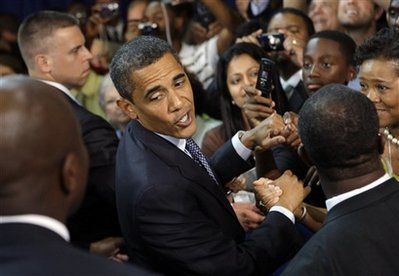 Let me conclude telling you I am not surprised, contrary to a lot of other people here in France who still view Obama as a semi-God. I have always thought that Obama would disappoint everybody. The problem is that people will probably react negatively, and be disgusted by politics and elections. And as we all know, it means next time they won't bother to go to the polls, and unfortunately, this is not good news for Democracy…