MICHELLE OBAMA PREFERS BALLET DANCING !
Michelle Obama does not like meeting the other first ladies.

First, when Obama went to Europe, a few weeks ago, she unexpectedly left earlier than him and took a plane back to Washington while her husband was going to Turkey. So she avoided meeting the Turkish first ladies, and some said that it was because the wife of the Turkish president wears a veil, and this would have embarrassed the American first lady.

Secondly, Michelle Obama was due to accompany her husband to the Summit of America last month, and a dinner party was to take place between all the American first ladies, but at the last minute, Mrs Obama changed her mind and decided not to travel with her husband. Some said that this proves there are indeed marital problems in the Obama couple, and rumors of a possible divorce resurfaced again.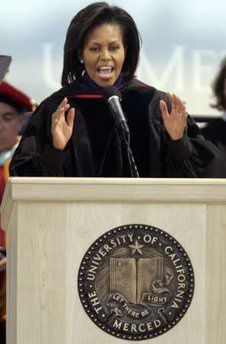 .S. First Lady Michelle Obama delivers a speech to the first four-year graduating class at the University of California Merced in Merced, California May 16, 2009.REUTERS/Robert Galbraith (UNITED STATES POLITICS EDUCATION SOCIETY) (souce : HAARETZ.COM)




Today, the series continues, and Michelle Obama is there again showing her lack of education, as the Israeli newsite Haaretz.com reveals : As the Israeli Prime Minister Benjamin Netanyahu is meeting Barack Obama in Washington today, some are wondering if Michelle Obama will agree to meet his wife, Sara, or will prefer to go to New York to see a ballet !


The prime minister is going for a "working visit," according to the official description; the trip will last all of two days; and it is not exactly clear what Sara will be doing there with him - unless this brief separation is like a living death for Benjamin Netanyahu, or his wife's good advice is absolutely essential in these exceptionally complex political and diplomatic circumstances.




If a prime minister's wife is already taking the trouble to travel so far, this creates a kind of expectation that the president's wife will compensate her for her efforts by granting her at least a brief meeting, if not a luncheon. On the other hand, Michelle Obama is evidently an independent woman; she is not inseparable from her presidential husband, and she has her own agenda: She is traveling to New York to inaugurate a new wing of the Metropolitan Museum of Art and to be the guest of honor at the American Ballet Theatre's gala ball.

And now, insult is crouching like a dog at the door of the president's official guest residence, Blair House, and its shadow is liable to darken the entire visit. And the tension will accompany us until it is all over, tomorrow: Will the two women meet or not? Maariv reported that Sara requested a meeting with Michelle, virtually inviting a slap in the face - which, as Israelis, we will under no circumstances accept.

If I had to bet, I would venture to guess that the meeting will nevertheless take place. Michelle will agree to return from New York, and even to give up on the ballet, because a little goodwill on her part would contribute to the final joint statement on the negotiations over the West Bank and the Syrian heights. Bad manners at the White House could harden the Israeli position, which would be an unnecessary and truly pointless pity. It would be better for Michelle to allocate her time wisely and responsibly - to distinguish between the important and the trivial, between her duties in Washington and her pleasures in New York.

There is no doubt that while these lines are being written, influential parties are still trying to prevent the mishap: Efforts are still being made behind the scenes to save the visit at the last minute.

(source : HAARETZ.COM)

In spite of her repeated casual, disrespectful attitude, the MSM is constantly introducing Michelle as a perfect first lady, praising her, calling her the most beautiful, the most charming first lady the US has ever had, but I think this is really ridiculous, for she is exactly the contrary.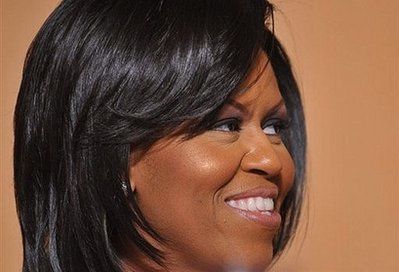 Michelle Obama has no class, no distinction, she is not well-educated.

And concerning her great beauty, I will only quote the Somali-born model, Iman, and wife of rocker David Bowie recently, in a magazine interview ) :

Mrs Obama is not a great beauty,"
but she will " get better with age" ! !