For a few days, I have been watching carefully the reaction of the French media to Barack Obama's recent flip-flops on a certain number of issues.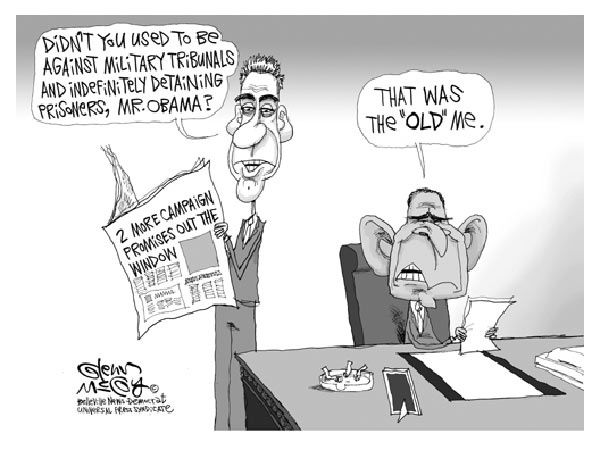 The main one is of course his decision to continue to try Guantánamo detainees under the widely discredited military tribunal system set up by George Bush :
http://europumas.over-blog.com/pages/OBAMAs_FLIP_FLOPS-1389256.html



... but we may also mention his attempt to block the release of up to 2,000 photographs of alleged abuse at American prisons in Iraq and Afghanistan, whereas he had promised the contrary :
http://europumas.over-blog.com/pages/CHANGE_WE_CANT_BELIEVE_IN-1393699.html



Let me tell you that French journalists are a little embarrassed these days...

In reality, they do not really know what to say... They are at a loss...

They do not dare criticize their idol, and yet, they are realizing that there is definitely something wrong with him.

On the radio, on TV, or in French newspapers, all the reports which deal with these issues are quite reserved... they say that Barack Obama must have good reasons for doing that, that it was certainly impossible for him to do otherwise.

No, it cannot be HIS fault... HE cannot be the one to blame...
He probably did not know how difficult it would be when he made these promises. And now he is forced to adapt himself to the harsh reality... A president cannot do whatever he likes...

Etc... Etc...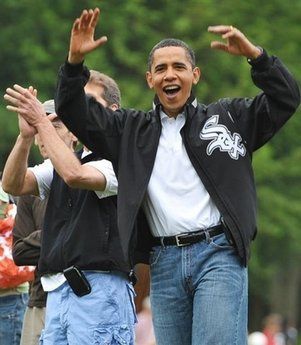 US President Barack Obama celebrates after his daughter Sasha's soccer team scored a goal during a game in Georgetown in Washington, DC.


Blah... Blah... Blah...

But when will the MSM accept to speak the truth ?

When will the MSM finally recognize that they have all been wrong... that they have been mistaken ?

They committed an unforgivable mistake...
They placed all their hopes in an unknown politician, they praised him as the Messiah, they made people believe that thanks to him, everything would be different, everything would be better...

But now it is high time you came back to reality, Ladies and Gentlemen from the media !

Try to be objective, at last !

Obama is not so different from Bush, in fact.
And above all, one of his main characteristics (as we often said here on this blog during the presidential campaign), is that he has no opinion, no real political ideal, no project for his country.

Obama is only an opportunist who has been cunning enough to take advantage of a particular political context, at a time when his country was in disarray.
And now, instead of disappearing, this disarray, is becoming stronger and stronger every day...