OBAMA AND THE "SARKOZY METHOD"
This is called the Sarkozy method.

It consists in gradually eliminating all kind of political opposition and neutralizing your potential rivals.

The method is ingenious : you spot your most dangerous political adversaries, and you try to rally them to your cause, proposing them the most enviable positions, flattering their egos so that they cannot refuse.

You even appoint them as members of your Cabinet : who can refuse to become a Minister in the French government ? We can quote the examples of Bernard Kouchner, Eric Besson, Martin Hirsch, Fadela Amara, Jean-Marie Bockel, who are all Socialists, and who yet accepted to become Sarkozy's ministers.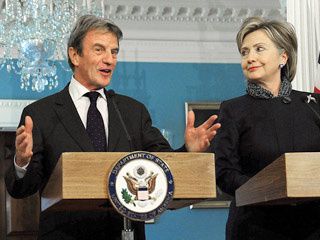 Bernard Kouchner, French Foreign Minister, with Hillary. Kouchner is a former member of the Socialist Party.


You can also entrust others with all kinds of political missions to prepare social reforms, including famous figures of the Mitterrand era, like Jack Lang, Michel Rocard, Jacques Attali, Claude Allègre...

And finally, you can also appoint some of them to international positions, in order to keep them at a distance, like Dominique Strass-Kahn, who is now the Managing Director of the International Monetary Fund.

And, like that, little by little, you manage to be the only one left, and you ensure your reelection.

It seems that Barack Obama is now copying this quite efficient method, probably because, like Sarkozy, he really intends to be reelected in 2012, in order to remain eight years in office.

First, he appointed Hillary in one of the most important Cabinet positions.

Secondly, he tried to include several Republicans in his administration.

Thirdly, he attempted to persuade several Republican senators to support his policies in order to make his bills be adopted;

And now, he is sending one of his most serious rival for 2012 thousands of miles away, in China !

John Huntsman, a Republican, who is currently the governor of Utah and whose name has come up as a potential challenger to Mister O. in 2012, intends go to work for the president as ambassador to China, a source close to the governor said.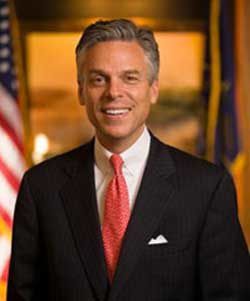 John Huntsman, who is fluent in Mandarin Chinese from his days as a Mormon missionary in Taiwan, has accepted the appointment, said the source, who would speak only on condition of anonymity ahead of a White House announcement expected Saturday.
Huntsman, 49, is a popular, two-term governor who served in both Bush administrations and has made a name for himself advocating a moderate agenda in one of the nation's most conservative states.
He made headlines recently for encouraging the Republican Party to swing in a more moderate direction if it wanted to bounce back from the 2008 elections, angering some conservatives.
Huntsman's positions on the environment and other issues have led some to consider him a potential contender for president in 2012. (for example, in a 2006 speech at Shanghai Normal University, Huntsman spoke of the need for China and the U.S. to work together on environmental issues.)
However, Huntsman has drawn the most attention for stating he favors civil unions for gay couples even though he backed a state constitutional amendment passed in 2004 that prohibited same-sex marriage.
Huntsman's comments on civil unions drew the ire of conservatives in Utah and elsewhere.
David Plouffe, who was President Obama's campaign manager, believes that there is at least one potential 2012 Republican presidential contender to keep a close eye on, according to the US News and World Report: Utah Governor Jon Huntsman, Jr.

"I think the one person in that party who might be a potential presidential candidate is Gov. Jon Huntsman of Utah," Plouffe told US News. "I think he's really out there and speaking a lot of truth about the direction of the party."

And David Plouffe is probably right, because Mr Huntsman would really like to reform his own party.
In an interview with Politico in March, the governor said his party needs to expand its base. "We need to pull up the stakes of the tent and draw them out a little bit," he said.

"I would liken it a bit to the transformation of the Tory Party in the U.K.," Huntsman added. "They were a very narrow party of angry people. And they started branching out through, maybe, taking a second look at the issues of the day, much like we're going to have to do for the Republican Party, to reconnect with the youth, to reconnect with people of color, to reconnect with different geographies that we have lost."

"You cannot succeed being a party of the South and a couple of Western states," continued the governor. "It just – it isn't long-term sustainable."

This all sounds very sensible, and that was quite encouraging for the Republicans to have such an open-minded and charismatic figure as their leader.


But now that Mr Huntsman is going away, the GOP is losing one of its best opportunities to improve its image and to find a credible leader.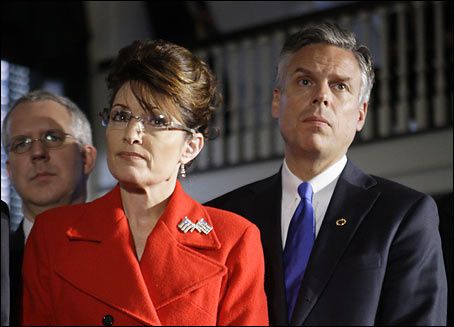 The announcement of the nomination of John Huntsman as ambassador to China will be made today. We can see him here, on the right, with Sarah Palin, another possible Republican contender in 2012.



And for all those who would like Obama to lose in 2012 (like me), this is not a good piece of news...