WHERE HAVE ALL REPUBLICANS GONE ?
A democracy in which there is no system of checks and balances is a democracy which does not function properly.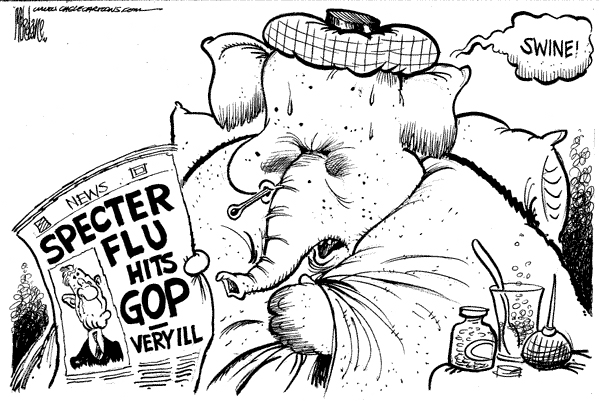 It runs the risk of not being a democracy anymore.


In France, president Sarkozy has managed to annihilate all kinds of opposition, from the Socialist Party to the supporters of François Bayrou (MODEM Party), from the far-right movement of Jean Marie le Pen (Front National) to the far-left movement : all the other political parties are totally inaudible.
Morever, the media do not fulfill their role of fourth power.
As a consequence, France has in fact become a monarchy again, and all those who disagree with the monarch are systematically rejected and eliminated.
In the USA currently, the same phenomenon is being observed :
President Obama has now got the majority in both houses in Congress, and he has "absolute powers" in the Senate (since A. Specter became a Democrat) : now Democrats will be able to prevent any filibuster (they are only one vote short-
59- out of the 60 votes necessary), which means they will be totally free to do whatever they want.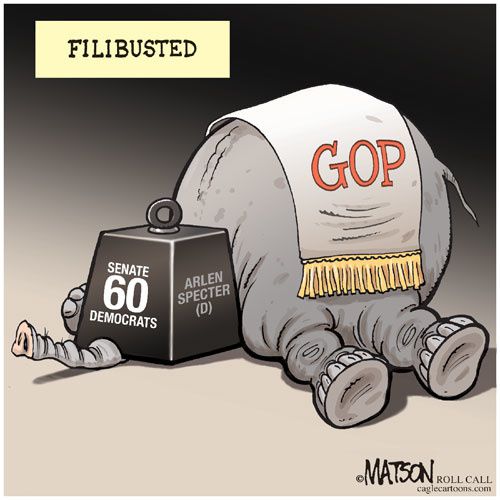 In a short time, the Supreme Court will also become favourable to Obama's policies, as one of the Justices (David Souter, who was a Republican) is going to retire and Obama will be free to nominate a puppet to replace him.

But, above all, what is particularly worrying is the disappearance of the Republican Party, which had already been inexistent during the presidential campaign, and which at present seems to be engulfed in Obamania.
The Republican Party desperately needs a leader ;
And it is torn by internal divisions as it had already been in the nineties.
This Party must work seriously in four directions :


- find a leader who could challenge Obama nationally, and try to become as well-known as the president. But this will of course not be easy. For the moment, the most famous member of the Republican Party is undoubtedly Sarah Palin.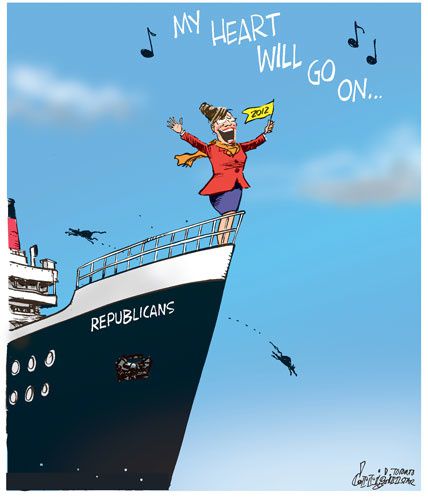 - win the battle of image, by trying to break with the « Bush years », which are still seen very negatively in the public opinion,

- rely on a new generation of Republican candidates to spread the party 's ideas and doctrine in each state,
- and above all, try to "hunt" on traditionally Democratic lands : social issues should become a priority for Republicans now, whereas they have traditionally been considered as topics favoured by the Democrats.
But the new generation of Democratic politicians, who won the 2006 and 2008 elections, did not hesitate to focus on « traditionally Republican issues » such as the budget deficit, national security, or the fight against terrorism. ANd thanks to that, they won these last elections !


If Republicans want to come back to power, they will have two missions to carry out :
1) to find a charismatic leader
2) to find a new political platform on which they agree and which will enable them to convince moderate voters in the next election.
-
Because, the two main difficulties that Republicans are facing today are the lack of a real leader, and their divisions, for example they still do not agree on how to organize their opposition to the president. These divisions have made them inaudible over the last few weeks.
What has been the Republicans' message since Obama was elected ? I'm sure nobody is able to answer this question !

Personally, I am not a supporter of the Republican Party. And yet, I really hope that this Party could manage to stand on its feet again, for democracy' s sake. America, like France, needs a strong opposition party.

To conclude, it is high time to build a real, a clear, a well-organized opposition to counter Obama's decisions and policies before it is too late !