OBAMA PROMISES SARKO HE WILL DO HIS HOMEWORK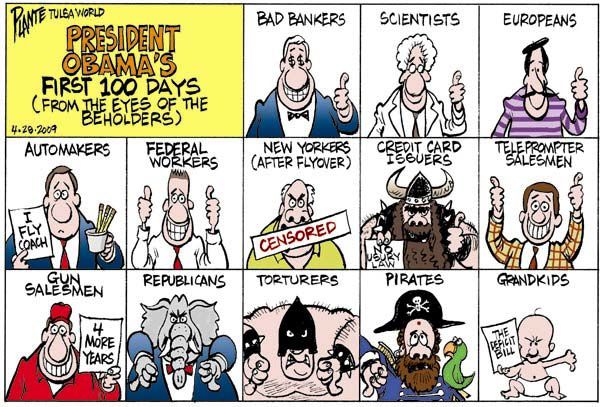 No, what is said in this cartoon is not totally right : all Europeans are not satisfied with Barack Obama after his first hundred days in office.

And the first one not to be enthusiastic is our French president.

It is more and more obvious that these two do not get on well.


Visibly, the American president has not been very happy to learn that Sarko described him as incompetent and inexperienced.

And, two days ago, he made fun of his French counterpart during a conference on climate change :
he "promised" he was going to work very hard on this issue in order to become an expert.

Obama's words were revealed by the French Environment Minister, Jean-Louis Borloo on Tuesday, which means this comes from a reliable source :


"Tell Nicolas I am going to do my homework, and in two months I'll be very good at climate change", Mister O. told Mister Borloo, after coming near him "with a big smile and putting his hand on his shoulder", according to the French minister.
"That was quite friendly, a message of respect addressed to the French president", Mister Borloo added.



So, first, this is the first time a member of Sarkozy's government implicitly confirmed that Sarko had really criticized Obama's inexperience.

And secondly, it confirms too that Obama was offended, as he thought it necessary to mention it during a meeting. And we guess the "smile" was purely hypocritical, his remark was not a kind one, nor a "message of respect", as Mister Borloo asserted !

We may imagine Obama's ego was affected by Sarkozy's remarks !
Alas, I'm afraid he won't be able to keep his promise : if we think about what has happened since he was elected, we notice he has been more busy travelling and sleeping in palaces than doing his homework !