FORTUNATELY, THERE's HILLARY !
We have just learnt that Hillary Clinton is making an announced visit to Iraq this morning.
http://europumas.over-blog.com/pages/HILLARY_MAKES_UNANNOUNCED_VISIT_TO_IRAQ__VISITE_SURPRISE_DE_HILLARY_EN_IRAK-1323046.html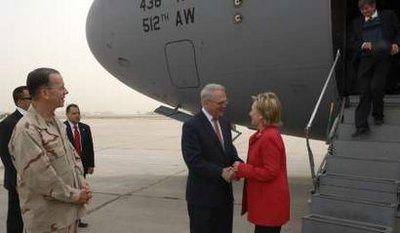 Secretary of State Hillary Clinton (in red) is greeted by newly appointed U.S Ambassador to Iraq Chris Hill in Baghdad as Admiral Michael Mullen, Chairman of the Joint Chiefs of Staff, looks on April 25, 2009. U.S. Secretary of State Hillary Clinton made an unannounced visit to Iraq on Saturday and said she saw no sign that the country was sliding back into sectarian warfare despite recent suicide bombings. REUTERS/Eric W. Brooks/U.S .Embassy Baghdad/Handout




I think this piece of news is kind of reassuring, for the situation in the region has become particularly worrying, with the threat ot the Talibans taking control of Pakistan and its nuclear bomb.

The fact that Hillary is doing her best to show that someone is in charge, determined not to let the region fall into the hands of dangerous extremists will probably come as a comfort to all the people who are starting to question Obama's strategy in the Middle-East.

I think now it is clear American people have elected a man, who, to quote Nicolas Sarkozy, "is not always up to standard on decision-making and efficiency."
And in such an explosive international context this makes us shiver.

But, fortunately, Hillary is doing what the president himself is unable to do : she shows that America has a leadership and will not accept religious extremists to spread their dangerous doctrine.

Last Wednesday, Hillary Clinton testified before the House Foreign Affairs Committee hearing on Capitol Hill in Washington.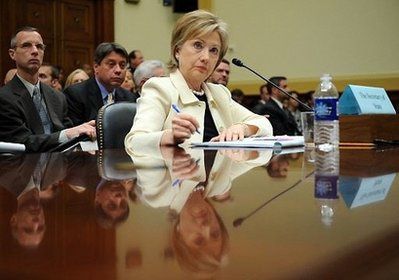 Secretary of State Hillary Clinton testifies before the House Foreign Affairs Committee on Capitol Hill in Washington April 22, 2009.




She clearly asserted that the Obama administration is prepared for tough sanctions against Iran if dialogue fails and voiced fears over Taliban advances in Pakistan

There, she spoke with great assurance, authority, proving she had perfect knowledge of the issue, and, contrary to her boss, without a teleprompter !




The only problem is that Hillary is not free to do nor to say whatever she wants, she still has to obey Mister O., and I suppose he does not let her take too many initiatives, for fear she might make him appear as an amateur ! And Americans might realize that they have elected the wrong person !