Americans seem to be fed up with seeing their president in swimming trunks, don't they ?

They think it is in very bad taste, don't they ?

They find this unseemly, not suited to a time of crisis, while they have to roll up their sleeves and put themselves to work... and certainly not spend their time vacationing...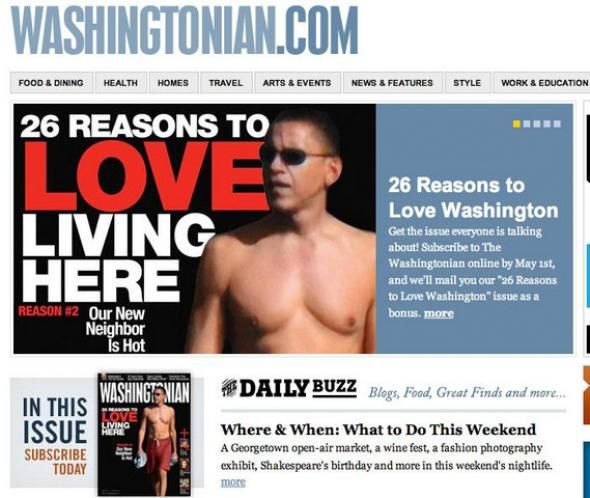 But why are they complaining NOW ?



So, this is the cover at the origin of the controversy :


«Washingtonian» magazine displayed a bare chested, beach-frolicking President Obama on the cover of its May issue that hit stands yesterday.

The current issue of the magazine showcases the headline, "26 Reasons To Love Living Here," the second reason, "our new neighbor is hot." .


And apparently, this has provoked the anger of a lot of Americans.
People do not appreciate seeing their president displayed bare-chested and called "hot" ! Many readers of the magazine, who are interested in politics, have expressed their indignation to the editor-in-chief.


Strangely, the same photo had had a lot of success on the Internet in December. At that time, people had enjoyed watching the Obama couple on vacation in Hawaii.

Even, here, on this blog, We had told the story of "Sexy Obama" :

http://europumas.over-blog.com/article-26075818.html

And we had published all the photos of our special Christmas tale "Obama vacationing in Hawaii."
http://europumas.over-blog.com/pages/Christmas_Tale__Conte_de_Noel__OBAMA_IN_HAWAII__OBAMA_A_HAWAI-950851.html


Well, things have changed...

Ha ! Ha ! Ha !

Today, Americans are shocked because their president is said to be "hot", aren't they ?

But it is too late now, isn't it ?


They have selected him !

They have chosen a man, who has spent most of his time vacationing or traveling and sleeping in luxury hotels since he was elected !


They had better have been wiser ...
so let them cry now !