MICHELLE OBAMA DOESN'T LIKE TRAVELLING !
Michelle Obama has only been first lady for less than a hundred days, and she has already shown her lack of good manners and education.

Everybody was expecting her in Mexico and at the Summit of the Americas in Port of Spain, but finally, and without apparent good reasons Michelle has changed her mind at the very last minute.

The piece of news came only a few hours before Obama's arrival in Mexico, while the Mexican president Mr Calderon and his wife were expecting the Obama couple for dinner.

Then, some had hoped that Michelle would turn out in Trinidad and Tobago, but there again, she remained invisible.


Once again, the announcement was made very late : the US Embassy in Port of Spain reported that First Lady Michelle Obama was not coming to the Fifth Summit of the Americas in Trinidad just before the arrival of her husband.

Now, I wonder why she did that.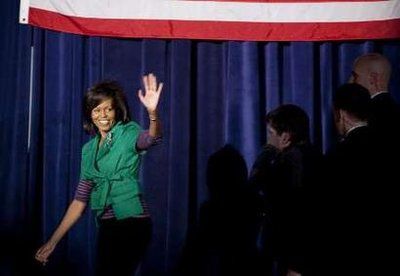 First Lady Michelle Obama waves after delivering remarks at the Department of Homeland Security after meeting with representatives of the different branches of the department in Washington, DC, April 14, 2009.REUTERS/Joshua Roberts (UNITED STATES POLITICS)




OFFICIAL REASON :

She said that she had decided to stay with her two daughters, Malia, 10, and Sasha, 7, who are now enjoying their spring break.

If it is true, it is quite rude ! She sees her daughters all the time, and the visit would only have lasted a couple of days.

So this reason appears to me as being only "diplomatic" if you see what I mean.

SO WHAT COULD BE THE UN-OFFICIAL REASON ?

- Maybe she is already fed up with her role of first lady...

Or :

- Maybe she had just had an argument with her husband, which could confirm the persisting rumors that all is not so fine between Barack and Michelle. There have already been rumors of a possible divorce, but of course the MSM has never said one word about it !
http://europumas.over-blog.com/article-27082022.html


Meanwhile, Mrs Obama has managed to disappoint a lot of women, which is not a good beginning :

Trinidadians, especially women, are disappointed that the First Lady, who won the hearts of millions of Europeans when she visited London with her husband early this month, will not be attending.

Francisca Wilson of the Emancipation Support Committee said that she is extremely disappointed that Mrs Obama has cancelled her trip because she was looking forward of seeing the first African American First Lady.

Members of the National Women Action Cultural Committee have also expressed their disappointment.

The organisers of the Summit have arranged a trip to the Wild Fowl Trust and the Port of Spain Market for the wives of Heads of Government that was planned to include Mrs Obama.

SOURCE : http://www.caribbeannetnews.com/news-15754--63-63--.html


Let me also remind you that this is not the first time that Michelle has changed her mind at the last moment and decided not to come. Only a fortnight ago, she was expected in Turkey, which was the last step of her husband's European tour.

Then, she eventually chose to fly back to the USA, once again pretending that she had to see her daughters...

This is becoming really worrying...

Maybe her own mother, who was supposed to look after Malia and Sasha at the White House has proved to be an incompetent nanny... And that's why Michelle is afraid to leave her daughters for too long !

Or maybe she is too busy taking Bo for a walk !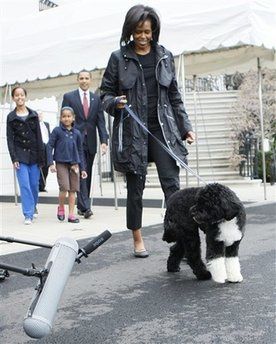 President Barack Obama, first lady Michelle Obama, and daughters Malia and Sasha Obama, walk with their 6-month-old Portuguese water dog Bo on the South Lawn at the White House in Washington, Tuesday, April 14, 2009.(AP Photo/Charles Dharapak)




Or, she is too busy gardening !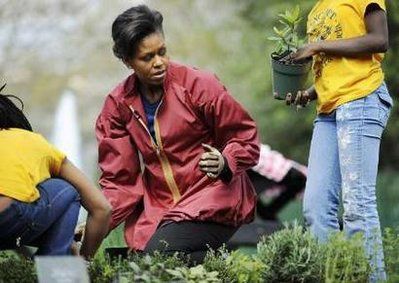 US first lady Michelle Obama (C) plants herbs with students in the White House Kitchen Garden on the South Lawn of the White House in Washington April 9, 2009.REUTERS/Jonathan Ernst (UNITED STATES POLITICS)





Anyway, whatever her reasons, I think we should not expect too much from Mrs Obama in coming months, because when I read in the press that she is really a new kind of Lady Diana, that makes me laugh !

There is only one thing which Michelle may share with the Princess of Wales : the fact that her marriage with Obama might have a very unhappy end !