HILLARY WAS RIGHT : ROXANA IS OBAMA'S FIRST VICTIM !
This beautiful young lady is one of the first victims of Obama's foreign policy...

Her name is Roxana Saberi...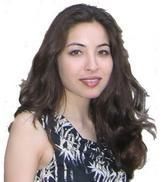 During the presidential campaign, Obama had asserted he was in favour of holding talks with the so-called rogue states like Iran. That was one motive for disagreement between him and his primary opponent, Hillary Clinton, who warned him several times that such behaviour could prove to be dangerous...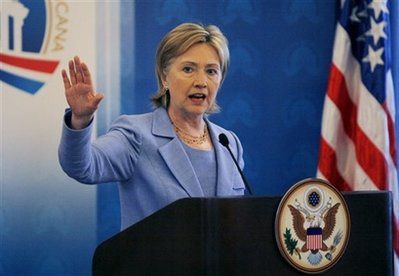 But Obama has chosen to ignore Hillary's warnings...

Since he was elected, he has made several diplomatic overtures to this country, the most important of which certainly being his video message of peace broadcast on Iranian TV channels.

Yet tonight, Iran's expected answer to such naive diplomacy came as a shock to many women around the world :


Roxana Saberi, the US-Iranian journalist accused of spying for the US has been sentenced to eight years in prison in Iran.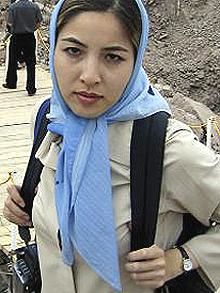 Hillary Clinton has been quick to react :



"I am deeply disappointed by the reported sentencing of Roxana Saberi by the Iranian judiciary," she said, while she was attending a Summit of the Americas with her boss in Trinidad and Tobago.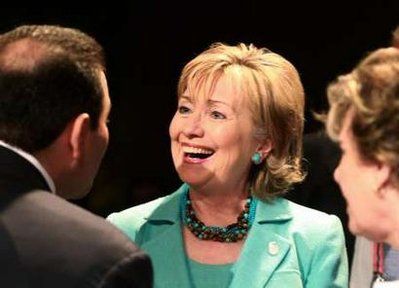 Secretary of State Hillary Clinton (C) arrives for the start of the first plenary session of the Fifth Summit of the Americas in Port of Spain, April 18, 2009.REUTERS/Kevin Coombs (TRINIDAD AND TOBAGO POLITICS)



"We will continue to vigorously raise our concerns to the Iranian government," she also said in her statement.
Roxana, a reporter, had been detained in the notorious Evin prison in Tehran since January and went on trial behind closed doors on Monday accused of spying for the United States.



She has been living in Iran for six years.
She is a former Miss North Dakota who also has a master's degree from Cambridge University. She was writing a book about her experiences in Iran. She worked there for various Western media outlets, including the BBC, Fox News and National Public Radio (NPR) in America.

She first told her father in a phone call that she had been arrested for buying a bottle of wine in the strictly Islamic country. She was later charged with working without press accreditation, but was put on trial last week on the espionage counts. Her parents had hoped she would get clemency after no more than six months' imprisonment.

Her lawyer said he would appeal, but she is expected to spend her sentence in Tehran's feared Evin jail, where political prisoners are held and executions staged regularly.


(The Canadian-Iranian photo-journalist Zahra Kazemi, who died there in 2003, had been tortured, badly beaten and raped, according to a Iranian physician seeking asylum in Canada, although the Iranian authorities claimed she died of natural causes.)



Tehran's deputy prosecutor, Hassan Haddad, said that Saberi was carrying out "spying activities under the guise of being a reporter". He said she entered Iran, which does not recognise dual nationality, as an Iranian citizen and that there was "no evidence that she has another citizenship".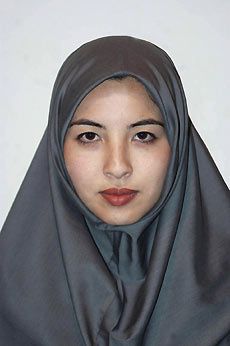 Iran's foreign ministry spokesman Hassan Ghashghavi said in March that Saberi's press card had been revoked in 2006 and since then she had been working "illegally."
Earlier this week State Department spokesman Robert Wood told reporters that the charges of espionage against Saberi "are baseless, without foundation."


Saberi was always careful about her public image and actions in Tehran as she was well aware of the political and cultural sensitivities of living and working there, friends said. Mr Srouji spoke about her case on the freeroxana.net website set up in the US by her friends.
"The last email I received from Roxana was on January 18, 2009, just a few days before her arrest. In this email, she told me her book was coming along well and that she was working hard to complete it within a few weeks," he said.
"I am upset that it seems as if she is being made a scapegoat in Iran's obscure political bargaining game with the United States. Instead of imprisoning her, Iran's authorities should realise the great service she has rendered the country, reporting about a society and a culture that for so long has been misunderstood, misrepresented and badly reported in the West. Imprisoning, persecuting and silencing journalists is not a solution, it only creates more resentment, anger and incomprehension concerning the Middle East, as if there weren't excessive amounts of these emotions already."


Several American-Iranians have been arrested and detained in recent years, but most have been released without trial.


The regime has long been particularly suspicious of Iranians brought up or educated in the US and Europe, suspecting them of working as "fifth columnists" trying to undermine the Islamic revolution and spread "decadent" Western values.
"There's a clear message to Iranians with Western connections here. And that is 'we don't trust you'," said a former foreign correspondent in Tehran.


So... what has Obama's reaction been ?

The White House says President Barack Obama is "deeply disappointed" by Iran's sentencing of an American journalist !

Deeply disappointed ?

Why doesn't he apologize ? WHy doesn't he say he is sorry for his irresponsible diplomacy, and become tougher with the Iranian regime ?

The verdict, the harshest sentence ever meted out to a dual national on security charges in Iran, casts a serious shadow over his repeated moves to thaw relations with the clerical Islamic regime.

Because now, nobody can deny the connection between Ms. Saberi's arrest and the Obama administration's fawning overtures to Iran. A brief editorial in Thursday's Wall Street Journal, which refers to Ms. Saberi as Iran's "
latest hostage
," makes that connection much more explicit.
It is worth noting that her arrest came days after President Obama was inaugurated, that the espionage charges were brought about the same time U.S. envoy Richard Holbrooke shook hands with Iran's deputy foreign minister in the Hague (an encounter the Iranian foreign ministry officially denies, by the way), and that her "trial" coincides with news that the Administration will drop the longstanding U.S. demand that Iran cease its uranium enrichment as a precondition to direct talks.

Advocates of engagement often make the case that talks are the best way to foster better relations with Iran, and a better Iran altogether. Ms. Saberi's prosecution is as good an indication as any of the real nature of the regime, and of how the mullahs intend to reciprocate Mr. Obama's open handshake.



According to me, the Obama administration's entire approach to Iran (and Syria and a myriad of other bad actors in this region) is totally irresponsible.



Isn't Mister O. trying to revive negotations over Iran's illicit nuclear programme ?

You don't have to be a diplomatic expert to understand that Roxana Saberi could also be used as a bargaining chip by the Iranians as US and Tehran move tentatively towards better relations in the complex diplomatic dance over its nuclear programme, which it claims is for civilian energy purposes !


Obama is playing a dangerous game over there, isn't he ?

And I really wonder what it exactly hides...

I am not so sure now that this is mere amateurism...