Today was freezing cold. Barely 40 degrees. With frigid blowing rain.
I had the choice of four Tea Parties organized within driving distance. I chose the one located in a very small town in South New Jersey.
Vineland is situated in a rural and predominantly agricultural locale. Its residents are mostly Whites with a large Hispanic population (30%). Incomes are lower middle class. It is a typical Americana corner.
After an hour driving in pouring rain, I joined a group of about fifty people who were making the very best of it under their umbrellas. The group was entirely white, but diverse in ages, from the barely able to vote to retirees.
Our meeting place was across the Post Office on Main Street. Many of the cars passing by were honking in support.
The message was clear. No more spending, no more growing social programs, no more big government. The tune was non violent but strong. Two Gulf war vets came with their large size American flags.
The group averaged more or less 50 at all times, newcomers replacing the worn-outs, as I found standing there for more than half an hour, to be an exercise of your immune system strength.
Obama's response to every participant in the Nation was to give another afternoon TOTUS conference asserting one more time he was in fact lowering taxes.
The refusal of the White House, the Congress and the federal government to acknowledge the Tea Parties and their relevance, is nothing more than refusing to face reality and will only aggravate things.
First, Americans know how to count especially when it comes to their dough and they just went through some pretty depressing maths with their IRS return. They know first hand the presidential speech to be off and not adding up.
Second, to reduce people's demands to a tax issue, rather than understanding they express a total rejection of socializing America and selling its control to the lobby du jour in favor at the White House, is a slippery slope.
The White House is not an Ivory Tower. The American people do not have a voice only once every four years. They are granted permanent power by the Constitution. Let's not forget it!!!


ARTICLE WRITTEN BY : FRENCH NAIL


Scenes seen yesterday in Vineland :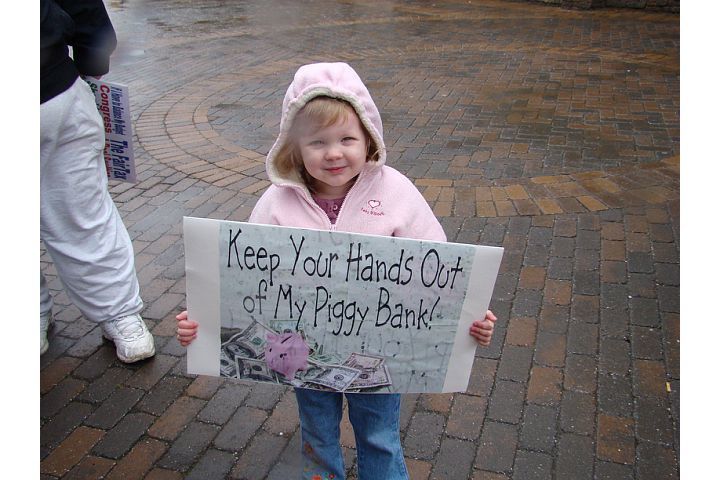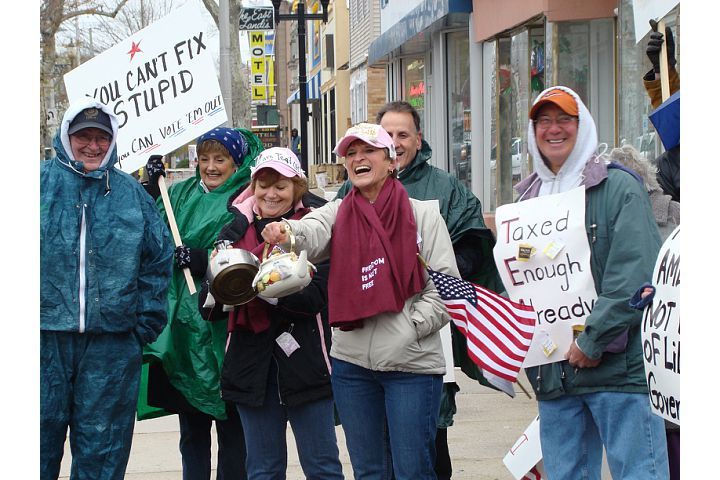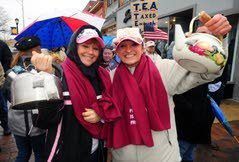 Anne Grady, of Winslow Township, left, and Madge Sharp, of Williamstown, brought their teapots to a tax day tea party protest Wednesday in Vineland. The event was held to symbolically show displeasure with the government and its 'lack of fiscal responsibility.'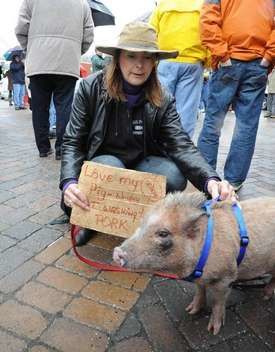 Chris O'Donnell, of Vineland, brought her son's pig, Wrigley, to the "Tax Day Tea Party" near the Vineland Post Office on Wednesday, April 15, 2009. Staff photo/Charles J. Olson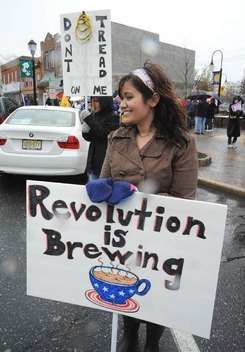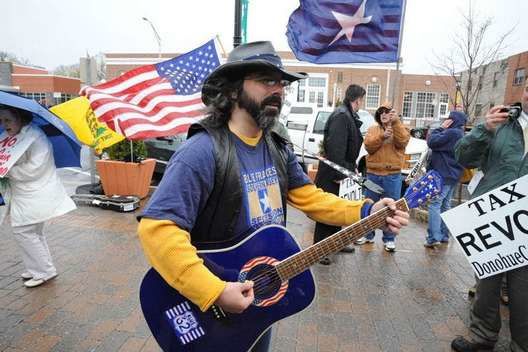 More photos at :
http://www.thedailyjournal.com/apps/pbcs.dll/gallery?Avis=A8&Dato=20090415&Kategori=NEWS01&Lopenr=904150803&Ref=PH&Profile=1001&SectionCat=NEWS


and :
http://vinelandprotest.shutterfly.com/