In the news today, two events are telescoping which show that Obama's America is not the change we had been looking for...


First of all, we learn that Obama would have liked to reform the immigration system as early as this year, but the economic crisis may likely delay this overhaul.
Two White House officials have made it clear that immigration is no longer a priority, there are more urgent problems to tackle and many other battles to fight...

Nick Shapiro one of the White House spokesmen declared :
"This isn't news ... The President has consistently said that he wants to start the discussion later this year, because our immigration system is broken and needs to be fixed. But the economy comes first, that's why we're so deeply engaged in that now—we will start an immigration discussion later in the year."


Then, White House spokesman Robert Gibbs in the briefing just reiterated Shapiro's laments:
"That story could have been written a year ago based off of what he's said on the campaign trail… I don't think [Obama] thinks it could be done this year
"I don't think the president is under any illusion that comprehensive immigration reform is going to be easy. It hasn't been in the previous two congresses and I would antitcipate that it certainly isn't going to get any easier."

Asked if White House officials believe political support for reform has eroded, Gibbs focused instead on practicalities. "What we have to address in termsof dealing with economy…makes adding any number of issues difficult simply by the sheer breadth of what we have to address each day," he said.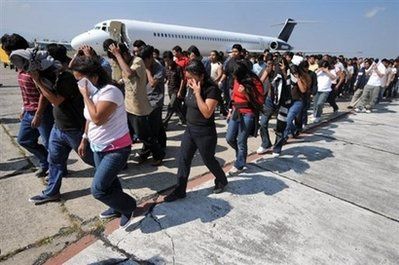 Guatemalan illegal immigrants deported from the United States arrive back in Guatemala City in 2008. President Barack Obama aims to draft legislation this year allowing illegal immigrants to become legal citizens as part of a major overhaul of the US immigration system, the New York Times said Thursday.(AFP/File/Eitan Abramovich)



During the campaign, Obama had promised that comprehensive immigration legislation, including a plan to make legal status possible for an estimated 12 million illegal immigrants, would be a priority in his first year in office.

Therefore, one group of voters is likely to feel betrayed today : these are the Latino voters, who turned out strongly for Mr. Obama in the election. Most illegal immigrants come from Mexico or Latin America.
According to the New York Times, Mr. Obama "plans to speak publicly about the issue in May, administration officials said, and over the summer he will convene working groups, including lawmakers from both parties and a range of immigration groups, to begin discussing possible legislation for as early as this fall."


So it is clear that Mister O. is not in a hurry ! Hispanic voters will be pleased to learn they are no more one of his priorities !

What is a little funny about this story is that Mister O. seems to forget his own family is concerned : his Kenyan aunt, is herself an illegal alien, who might well be deported unless there is an immigration reform !
Last week, she was allowed by a Boston judge until at least February the fourth 2010, but she has not been granted the permission to stay permanently in the US.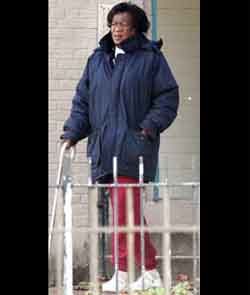 The president does not seem willing to help her, which is not very surprising if you think about the way he treats his African family. Remember that he has a brother who lives in a slum in Kenya, and who has been in jail recently. Obama has never done anything for him !


The second piece of news which is telescoping and reveals what Obama's priorities really are is the following one :

President Barack Obama asked the U.S Congress on Thursday for an extra $83.4 billion to fund the wars in Iraq and Afghanistan this year, citing threats from al Qaeda and a resurgent Taliban.
The request, to cover the rest of the 2009 fiscal year which ends on Sept. 30, comes on top of more than $822 billion that Congress has approved to fund the wars since September 2001, Obama said.
"We face a security situation in Afghanistan and Pakistan that demands urgent attention," he said in a letter to Nancy Pelosi, speaker of the House of Representatives, urging lawmakers to approve his request swiftly.
"The Taliban is resurgent and al Qaeda threatens America from its safe haven along the Afghan-Pakistan border."
Almost 95 percent of the funding would go to support military efforts to stabilize Iraq, Afghanistan and Pakistan, Obama said in the letter released by the White House.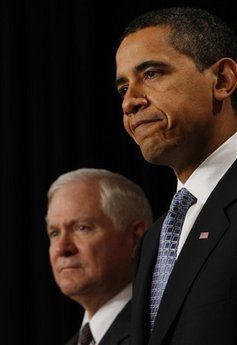 For those of you who have forgotten that Obama presented himself as the anti-war candidate during the campaign :


Obama pledges "last" supplemental request !

And at the same time :


OBAMA PLANS END TO SUPPLEMENTALS !

I don't understand anything !

Could anybody explain to me what it means ?

The administration of former President George W. Bush was widely criticized for using such supplemental requests to fund the wars. Both Democrats and Republicans said such urgent requests faced less scrutiny than the regular budget.
Obama has pledged to put an end to the practice and he said Thursday's request was "the last planned supplemental".

Ha ! Ha ! ha !

The White House said it had to submit another large supplemental request this time because the wars were only half-funded for the rest of the 2009 fiscal year.

Congress has already approved $65.9 billion for the wars in 2009 and some anti-war Democrats expressed reservations about the new request.
"The honest budget and appropriations process that the president has talked about falls somewhat victim to the fact that this is the way that wars have been funded previously," White House spokesman Robert Gibbs told a news briefing.
Representative Jim McGovern, a Democrat, said he was very worried about by Obama's plan to send tens of thousands more troops to Afghanistan, and was not a guaranteed "yes" vote for the supplemental.

"I was against the war in Iraq from the very beginning, and I don't want us to make the same mistake the second time," McGovern told Reuters.
But Defense Secretary Robert Gates said Obama's policies on Iraq and Afghanistan enjoyed broad support on Capitol Hill.
"The alternative to the supplemental is a sudden and precipitous withdrawal ... from both places. And I don't know anybody who thinks that's a good idea," Gates said.


What would be funny is to see for the first time Democrats dare to oppose Mister O.
I wish they could refuse to approve this supplemental money to finance the wars !

But it is only a dream : for the moment, Democratic congressmen are still obeying the Master's orders, and not listening to what their constituents ask them to do. A majority of Americans would prefer to see the money of their taxes be spent on something more useful than the financing of useless and deadly wars...

Update : I have just learnt, while I was writing this post, that US military in Afghanistan have admitted killing a group of Afghan civilians...

http://europumas.over-blog.com/pages/US_TROOPS_KILL_AFGHAN_CIVILIANS-1277687.html