Obama in Europe Special Coverage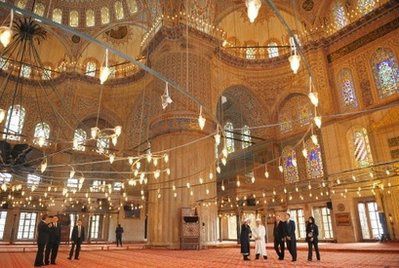 President Barack Obama, seen here with Turkish Prime Minister Recep Tayyip Erdogan has visited the Sultanahmet Mosque, better known as the Blue Mosque, in Istanbul following strong messages of US reconciliation with the Islamic world on his maiden trip to a mainly Muslim country.


Everybody knows that during the election campaign, Obama tried to hide his close Muslim ties...

From time to time, he could not help himself from committing a verbal slip :


http://hillary.meilleur.choix.qu-obama.over-blog.com/article-22663471.html


http://hillary.meilleur.choix.qu-obama.over-blog.com/article-22674658.html


Now the funny thing is that he is embracing these ties, after rejecting them !

In Turkey, yesterday, Obama spoke to the Muslim world : "I am one of you !"

And this morning, he visited the Blue Mosque in Istanbul :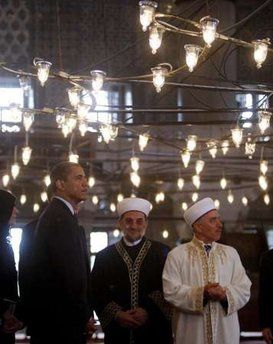 President Barack Obama (L) tours the Blue Mosque in Istanbul April 7, 2009.REUTERS/Jim Young (TURKEY POLITICS RELIGION)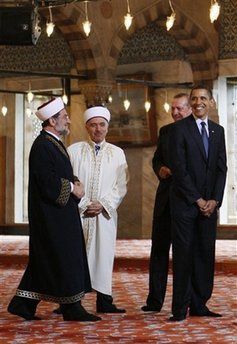 OBAMA WITHOUT HIS SHOES
President Barack Obama, is accompanied by Turkish Prime Minister Recep Tayyip Erdogan, second right, as they walk without shoes during a visit to the Blue Mosque in Istanbul, Turkey, Tuesday, April 7, 2009.(AP Photo/Charles Dharapak)


Obama tapped into his own unique heritage, which was a lightning rod in the campaign. Republicans used his middle name, Hussein, as a slur to suggest he was anti-American. At the time, Obama did relatively little outreach to Muslims, most notably not visiting a mosque while going to the sanctuaries of other faiths !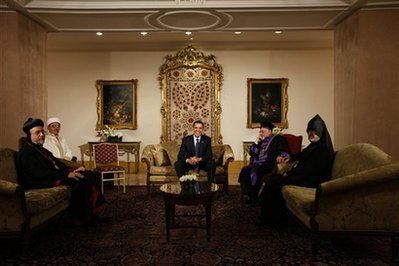 President Barack Obama meets with Armenian Patriarch Archbishop Aram Ateshyan, Chief Rabbi of Istanbul Isak Haleva, Grand Mufti of Istanbul Mustafa Cagrici, and Syrian Orthodox Archbishop Yusuf Cetin, in Istanbul, Turkey, Tuesday, April 7, 2009.(AP Photo/Charles Dharapak)



But on Monday, Obama, a Christian, continued a post-election pattern of emphatically embracing his heritage, which includes a Muslim father and stepfather and a childhood lived partly in Indonesia, a Muslim nation.
"The United States has been enriched by Muslim Americans," he said in the speech. "Many other Americans have Muslims in their families or have lived in a Muslim-majority country - I know, because I am one of them."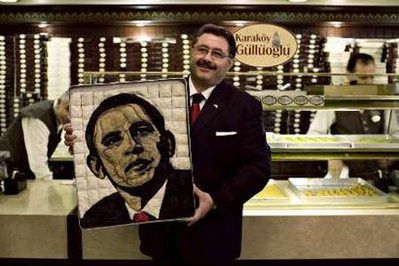 Dessert specialist Nadir Gullu holds a pan with a baklava made into the iconic image of U.S. President Barack Obama, dubbed "the Baracklava,"at Gulluoglu baklava bakery in Istanbul, April 6, 2009. Gullu spent five days and used 40 layers of pastry to make the baklava in honour of Obama's visit to Istanbul on Monday and Tuesday. Obama reiterated on Monday his support for Turkey's bid to join the European Union despite opposition from member states, but urged the mainly Muslim country to speed up long-stalled reforms.REUTERS/Finbarr O'Reilly (TURKEY POLITICS SOCIETY)




The statement is part of a long-term strategy that was outlined by the Obama campaign as early as August 2007, said Hady Amr, who was one of the Obama campaign's two official spokesmen to the American Muslim community.
Obama has used his presidency to reach out to Muslims in a number of ways.


In his inaugural address, he included Muslims in his description of the many people of faith of America.
His first televised interview was to an Arabic-language news channel. He delivered a video statement to the people of Iran and now has addressed the parliament of a predominantly Muslim country, Turkey.
Last but not least, there has been his decision to close Guantanamo.

For the moment, Obama has not met a lot of success : many demonstrations were organized in Turkey to tell him to go home !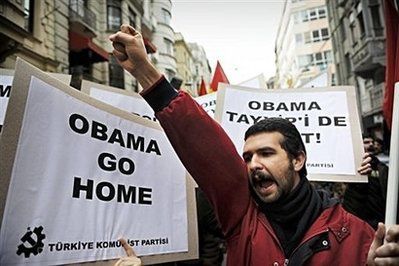 Members of the Turkish Communist Party shout slogans against US President Barack Obama during a protest in Istanbul. Obama, seeking to boost ties with a key Muslim ally, touted Washington's strong ties with Turkey Monday and tread carefully on neighbouring Armenia's decades-old genocide claims.

(AFP/Dimitar Dilkoff)
No doubt this is part of a strategy to please to the Muslim world, but the question is now : what for ?

What for is Barack Obama doing so much in favour of the Muslim world ?

Isn't there a political risk for him, whithin his own country ?
In the long run, he might offend a lot of Americans...

I've found an interesting article this morning in the British newspaper, the Daily Telegraph, entitled :"No need to go overboard on Islam, Obama". Here is an extract :



While I have
applauded
U.S. President Barack Obama's decision to make Turkey his first port of call in the Muslim world, I can't say I am that impressed by his blatant attempt to portray himself as a Muslim sympathiser during his
speech
to the Turkish parliament.
We all know that Mr Obama's middle name is Hussein, and that his family have Muslim roots. But as a politician Mr Obama is better known for his association with rabble-rousing Christian clerics in Chicago than their Muslim equivalents in the local mosques.
By going overboard in attempts to appeal to moderate Muslims I worry that Mr Obama is in danger of undermining the effectiveness of his position as leader of the world's only military superpower.
The problem of radical Islam, whether in Iran, Pakistan or Afghanistan, is as much a challenge for ordinary Muslims as it is for the West, and arguably there would be no need for the West even to consider being at war with Islam if moderate Muslims acted to put their own house in order.
But after his highly successful presidential election campaign in which he managed to persuade many ordinary Americans to support his political vision, Mr Obama clearly believes he can work his magic charm on international audiences. I, for one, fear he is going to be sorely disappointed.

I agree with the author of this article.

Americans could resent Mister O. if he does too much on Islam.
Several Muslims interviewed Monday recognized that Obama might be putting his own political career in peril.


Nobody has forgotten his associations with Louis Farrakhan, Rashid Kalidi, and Al Mansour !
And remember :
A Washington Post-ABC News poll conducted March 26-29 2009 found that 48 percent of Americans have an unfavorable view of Islam - higher even than in the aftermath of the Sept. 11 terrorist attacks.

To conclude, Barack Obama had better moderate himself, forget Turkey's integration in the European Union and the Muslim world for a moment, and concentrate a little more on his fellow Americans' daily problems...