OBAMA CONFIRMS AND SIGNS !
TOTUS Obama has struck again !

As you can see in this picture, this afternoon in Turkey, reading on super machine, he repeated the nonsense he had already uttered yesterday, to the great displeasure of his pal Sarkozy.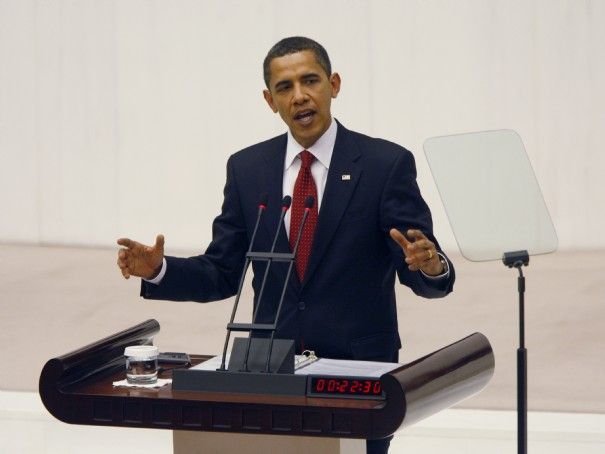 Barack Obama s'est de nouveau prononcé en faveur de l'entrée de la Turquie dans l'UE, lors d'un discours devant le Parlement turc, lundi à Ankara.


For the second time in less than a week, the American president intervened in the European debate, to call for an integration of Turkey in the European Union.

A few hours ago, he repeated the U.S. firm support to Turkey's membership bid to joint the European Union.
"Let me be clear: the United States strongly supports Turkey's bid to become a member of the European Union," Obama pledged in a speech at the Turkish parliament.


Although his French friend Sarkozy rejected his proposition yesterday, Obama confirmed and signed today :
He said Turkey has been a resolute ally and a responsible partner in transatlantic and European institutions, adding Turkish membership would broaden and strengthen Europe's foundation once more.
In his speech, Obama affirmed that U.S.-Turkey ties have undergone difficulties in the past few years. "I know that the trust that binds us has been strained," he said. But he played down the strain by revealing that he is visiting Turkey to send the U.S. message of recognizing Turkey's significance. The United States and Turkey, both NATO members, have been close allies for decades. However, the relationship was strained when Turkey refused U.S. troops' invasion into Iraq through its territories in March 2003. The Iraqi war was widely opposed in Turkey.
So when Obama speaks about an "ally", he should precise that he wants an ally to carry on his ugly wars that he had promised to end during the campaign...
"Turkey is a critical ally. Turkey is an important part of Europe. And Turkey and the United States must stand together" and work together "to overcome the challenges of our time," he said.
Obama enjoys giving Europeans a piece of advice, doesn't he ?
So... tonight, I have a suggestion for him :
as a French person, I think it would be a good idea for the USA to integrate Mexico as another American state...