OBAMA WANTS TO RULE EUROPE !
Obama in Europe Special Coverage

Who does Barack Obama think he is ?


During his presidential campaign in 2007, Sarko had made it clear he did not want Turkey to integrate the European Union...

And yet, yesterday, Barack Obama asked European leaders to allow Turkey to join the Union !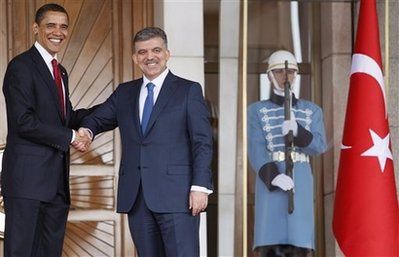 U.S. President Barack Obama meets with Turkey's President Abdullah Gul in Ankara, Turkey, Monday, April 6, 2009.(AP Photo/Charles Dharapak)



Is it a desire to stab in the back his friend Sarkozy ?

Or does he want to rule Europe ?

What is sure is that today, in France, this request is seen as totally irrelevant, and it has totally spoilt Obama's visit to Europe !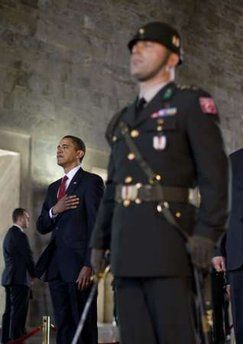 U.S. President Barack Obama stands alongside a member of the Turkish honour guard after laying a wreath at Ataturk's Tomb in Ankara, Turkey, April 6, 2009. Obama will seek on Monday to shore up ties with Turkey, a Muslim country with growing clout whose help Washington needs to solve confrontations and conflicts from Iran to Afghanistan.REUTERS/Jason Reed (TURKEY POLITICS IMAGE OF THE DAY TOP PICTURE)



As I listened to the radio this morning, I realized that most reactions were negative. Most people here are hostile to Turkey's integration into the European Union.

French listeners called to express their strong disappointment with Obama's behaviour, and even their anger !
It is all the more unexpected as, so far, French people were Obamaniacs...

But as everybody knows, the French does not want anybody to put their nose in their political affairs. And however popular Obama may be, they are now telling him :

"Please, Barack Obama, mind your own business !"

He has no right, no legitimacy to tell Europeans what to do !

He has no right, no legitimacy to tell Europeans which country they must integrate or not in their union !

Do French people intervene in American business ? Do they tell Barack Obama what to do as far as NAFTA with Mexico or Canada is concerned ?

So why ? why and what for did Barack Obama try to tell us what to do ?



Did he hope this declaration would help him be welcome in Turkey, the last step of his European tour, where a lot of anti-Obama demonstrations were taking place ?
All over the country, protesters were chanting : "Obama, go home ! ou "Yankee, go home !" ?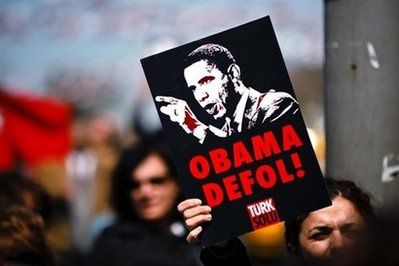 Turkish protestors shout slogans and holds banners reading "Obama go home" during a demonstration against US President Barack Obama's visit to Turkey. Turkish newspapers have hailed US President Barack Obama ahead of his meeting with Turkish leaders aiming to revitalise US ties with the key Muslim ally.(AFP/Dimitar Dilkoff)



Was he trying to please his Islamist friends ?

(as in this video where he bows to Saudi Arabia's King whereas he had contented himself with shaking hands with Queen Elizabeth II !)

Or was he only trying to irritate his French pal, Sarkozy, once again ?

In any case, whatever his motivations, one has to admit his declaration is a severe diplomatic faux-pas, which undoubtedly tarnishes his tour of the Old Continent !