Obama in France Special coverage (6)

Obama may have smiled, embraced and hugged Sarkozy, and praised him lavishly during their joint press conference, nobody can deny this obvious fact : so far (as the NATO Summit is currently under way), the American President has obtained nothing from his French counterpart !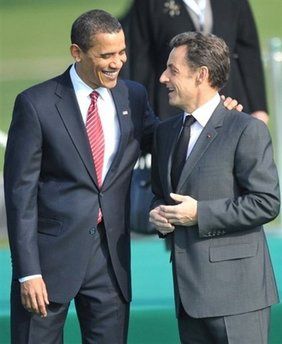 President Barack Obama with French President Nicolas Sarkozy on April 4, 2009 during the NATO summit. Obama was due in Prague on Saturday a day ahead of a summit with EU leaders hosted by outgoing Czech Prime Minister Mirek Topolanek, a virulent critic of US economic recovery plans.
Smiling and hugging in front of the cameras, again...


The winner of this match is undoubtedly French president Nicolas Sarkozy.



- first of all, Sarkozy, with the help of other European leaders, and particularly Angela Merkel, has managed to make Obama swallow something they were fiercely opposed to : the beginning of a regulation of the international financial system.
Even if the decisions which were taken during the G20 Summit are by far not a revolution, what counts is the political determination to put an end to the follies of the market, to uncontrolled speculations and their disastrous consequences on the world's economy.

On that particular point, Obama was forced to please his partners, and if you carefully read the American press over the last few days, you realize that he is being criticized for making these concessions.


- Secondly, concerning Afghanistan, it is to be noticed that Sarkozy resisted, to the great disappointment of his "pal". In spite of a diplomatic declaration which does not mean much, and is no French commitment, "We totally support the American strategy in Afghanistan", Sarkozy eventually refused to send more troops, as he knew the French public opinion is opposed to this war. No matter how disappointed Obama is, the French public opinion is more important for the French president !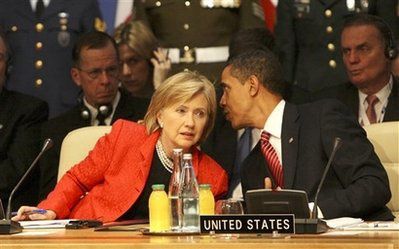 President Barack Obama talks with Secretary of State Hillary Clinton at a North Atlantic Council meeting in Strasbourg, France, Saturday April 4, 2009, during a summit celebrating the 60th anniversary of the founding of the North Atlantic Treaty Organization.(AP Photo/Geert Vanden Wijngaert)


- And, finally, as far as Guantanamo is concerned, Sarkozy has also remained firm. Although Obama wants Europe to accept detainees from the camp, Sarkozy has not appeared to be in a hurry to help him.
He only made a symbolic gesture, saying France would offer a foster home to one detainee (but only one) (probably of Algerian origin) from Guantanamo Bay if that would facilitate the closing of the controversial detention center where terrorist suspects are held.
One prisoner, this is not much, is it ?


To conclude, the two men played a very entertaining comedy yesterday ; both were very good actors.
Obama acted as if Sarkozy had never irritated him (forgotten the G20 summit, when the French president threatened to walk out. The deal to save the world was 98 per cent agreed in advance. Why attract attention to yourself by pretending you might storm out? Moreover, his team called Sarko "a pain in the arse" ; etc...)

Sarkozy acted as if Obama had not offended him over the last few months (when he refused to invite him to the White House after his election ; or when he wrote to Jacques CHirac ; Obama ignored him in London ; etc...).


Both agreed to hide their mutual resentment and to show the picture of a perfect friendship.

However, I would venture to assert that Sarkozy took the upper hand in that confrontation. In spite of his love declaration to his American friend, "Sarko to Obama : je t'aime" was a headline to be read on the Internet site of ABC News yesterday), he was wise and cunning enough not to concede anything to the American Messiah.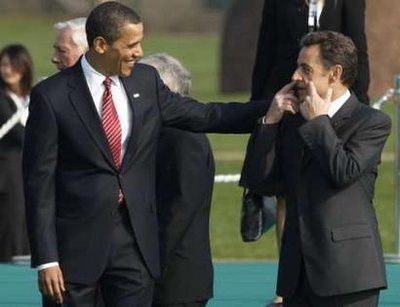 President Barack Obama (L) talks to France's President Nicolas Sarkozy after crossing the "Two Banks Bridge" on the Rhine river in Strasbourg April 4, 2009
Here, Sarko seems to be making fun of Obama, doesn't he ?



To conclude : France : 1 ; USA: 0 !