Obama in France : Special coverage (3)

One has to admit it :
Obama is a great communicator.

The Messiah from America is a real showman. What he has just done in Strasbourg is an outstanding performance.

The only problem is that, below the communication, once you remove the polish, there is almost nothing left.

It all started late in the morning, when he and Michelle arrived in Strasbourg (see our previous post).


Then, at midday, there was the joint press conference with Sarkozy, when Mister O. lavishly praised an infatuated Sarkozy (his ex-pal), who could not hide his pleasure.



Suddenly everybody started to hope again, and took a deep breath : phew ! they are loving each other again.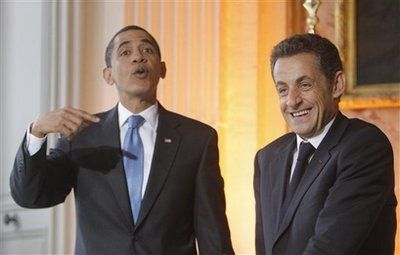 President Barack Obama gestures at French President Nicholas Sarkozy, prior to talks in Strasbourg, France, Friday April 3, 2009. Both leaders are scheduled to attend a NATO Summit marking the 60th anniversary of the organization.(AP Photo/Christophe Ena) Both of them look ridiculous, don't they ?



All the MSM were so busy rejoicing that they did not even notice that what Obama said was exactly the same thing he had already said two days ago, when he met Gordon Brown. Nothing original. Nothing new. Not so much of a tribute to Sarkozy, but simply kind words for another European leader.
Obama did nothing particular for Sarkozy, in fact.


But we should not be mean : the most important thing is that little Nicolas is now happy.
Poor Nicolas : he contents himself with so little !
He does not even realize that in reality, Obama does not care for him !


Let him dream...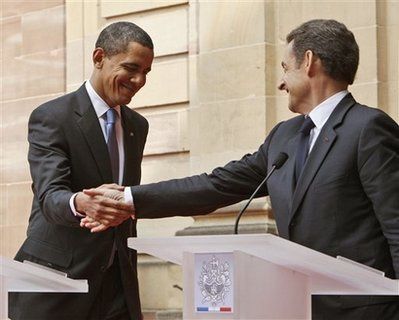 Affectionate gestures to make people believe in their sincere friendship !


Later, in the afternoon, the peak of the mascarade was reached when the great man appeared in the Rhenus sportshall with Michelle, the Queen's friend.


On that occasion, I'd like to tell him : "Congratulations !"
What a con artist ! Everybody was fooled !


This had been presented as "a meeting with young people".

The journalists were announcing "about 3 000 young people, of French or German origin".

Well, let me tell you that, from what I have seen, we have been fooled, they have been fooled. I watched this meeting from the beginning to the end, and I only saw a few young people. There were also many older persons. Of course, there were some youths, but according to me, they were not the most numerous.


But what was a real mascarade was the pseudo questions...

At first, there were no questions at all. Obama made a speech. Such a boring speech that I nearly fell asleep.
The same old speech, read on the same old teleprompter, directly imported from the USA, with the same podium, the same setting, so that his Majesty should not be disrupted.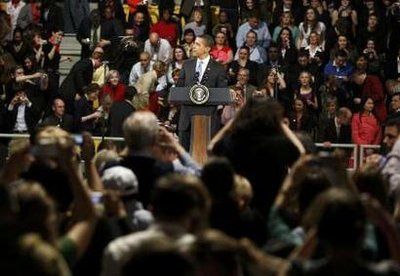 President Barack Obama delivers a speech during a meeting with young people at the Rhenus sporthall in Strasbourg April 3, 2009
Have a closer look : you can see the famous teleprompter !



Instead of a dialogue with young people as expected, Mister O. came to a campaign rally as the president of the world.
Then, to avoid disappointing all those who had come to see him, he pretended to answer a few questions from the public. He invited people to ask questions, and did as if he were selecting a few persons present.

He pretended to search the audience, looking in the distance, as we can see in the following picture :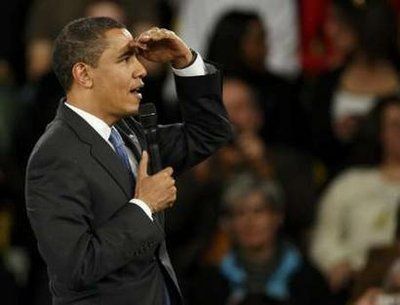 President Barack Obama delivers his speech at the Rhenus sports arena in Strasbourg, April 3, 2009
"Who am I going to choose ?" as if he were really selecting people ! What a liar !


Then he pretended to choose four or five people, but if you carefully listened, you would realize that all this was only part of a carefully well-written script, prepared in advance.

The questions and the answers had been drafted beforehand, and certainly submitted to the Obama team (or maybe the Obama team had prepared the questions themselves !). In short, nothing was improvised, as it is usually the case with Obama.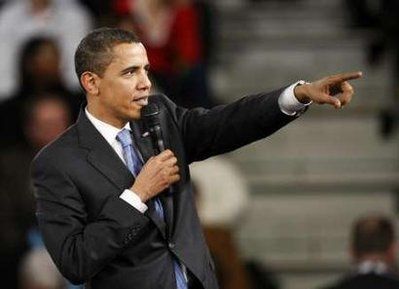 He pretends to have chosen a person in the public ! What a con artist !



Who could seriously think that the fact that he selected a young girl, of French and American origin, who came from Chicago (!) was only a pure coincidence ?


Who could seriously believe that the final question asked by a young German girl had not been prepared, as it gave him the opportunity to conclude on a personal note :
"Do you sometimes wish you had not run for president ?"

'No, no, of course... even if it required personal sacrifices (ask Michelle) blah blah blah... I sometimes felt guilty not to see my two wonderful daughters... blah blah blah... Prepare your handkerchief. The great man was getting emotional and wanted to make you cry.

To conclude, who can really be deceived by such a mascarade ?