WAITING FOR THE MESSIAH...
Obama in France Special coverage (1)

HE IS ARRIVING !

Strasbourg is holding its breath...


HE is in the plane, accompanied by the Queen's new friend, Michelle.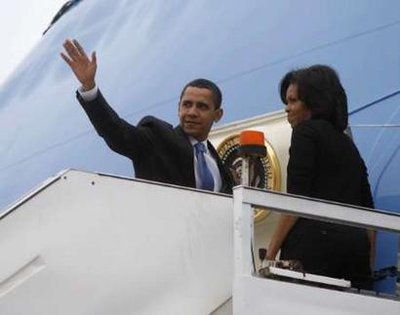 U.S. President Barack Obama and first lady Michelle Obama step aboard Air Force One as they depart London's Stansted Airport following the G20 summit April 3, 2009.REUTERS/Jason Reed (BRITAIN POLITICS TRANSPORT)



The French city is waiting feverishly.

Hundreds of people could not go to work this morning, as all the motorways leading to the town were closed.

Hundreds of kids could not go to school either.

But, never mind, the cause is worth it.

The great man is coming to visit us !

Some are particularly excited.
These are the high school students who have been carefully selected to meet the American Messiah this afternoon.

Who are they ?


Most of them come from the Kléber high school in Strasbourg.
But no panic !
Obama will not be threatened ! These young people have been chosen with great care.

They are in their final year at the high school, or students from "classe préparatoire" ( where you generally find an elite composed of the best college students).

Who could have imagined to see Obama facing rebellious teenagers, for instance anti-capitalist or anti-globalisation protesters ?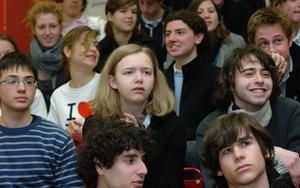 Here are some of the students who will meet the great man this afternoon.
They do not look very menacing, do they ?



And above all, Obama is taking no risk because the pupils from the Kléber high school have been ordered to be very kind and very polite with the King of the world :


Here is what their headmaster, Mrs Nancy Oudenot, told them (according to the local newspaper Les Dernières Nouvelles d'Alsace) :

"You are from Kléber. Your conduct must be irreproachable."

The headmaster registered the pupils and then enumerated very strict instructions they will have to follow.

First, they will have to take the bus altogether.
They won't be allowed to carry bags, and especially, "young ladies are not authorized to have handbags".
No knife in their pockets ; no lighter, no belt (due to metal detectors, the metal of the belts might provoke disturbances during the security checks ! "4 000 people to check will take quite a long time, so it could slow the whole process".
"You must come with your identity card and your invitation."
"You are allowed to have something to eat, but only in a transparent plastic bag", and "you will have to throw away your bottle of water before coming in" !
Students will be permitted to bring their mobiles and their cameras, but no camescope.
Placards, banners, signs are strictly forbidden, and so are tee-shirts where something is written.


Ha ! Ha ! Ha !
I wonder what Obama is afraid of !

In any case, with such precautions, he needn't worry !