A iPod is certainly a very nice present...

... for a teenager !

The problem is that an iPod is totally irrelevant when you are president of the USA and the person you offer the present is the Queen of England, an elderly lady of 83 years old !


However, this time, I am not going to join the concert of protests and laments provoked by what is considered as a new gaffe by Obama.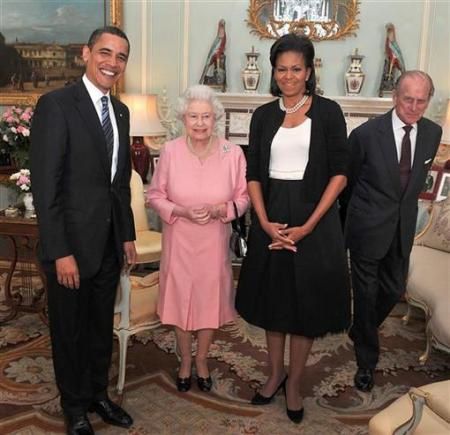 President Barack Obama (L) and first lady Michelle Obama (2nd R) pose for a photograph with Queen Elizabeth and Prince Philip, the Duke of Edinburgh, at Buckingham Palace in London April 1, 2009.


And the reason is simple : now, I do not think that was a gaffe. And the ridiculous presents offered to the Brown couple a few weeks ago when they came to Washington were not a gaffe either.

On the contrary...
Now, after second thoughts, I think all that was part of perfectly organised plan.
Mister O. behaves like this on purpose.


Everything is carefully planned in advance.

This behaviour perfectly suits Obama. This is an attitude which corresponds to the sort of person he is : arrogant ; careless ; scornful.


Behaving like this is like a challenge : he challenges the other heads of states or heads of governments.

His message is clear :

"I am the King of the world. I am the most popular person in the world and I will crush you.
I am a new type of president. I do not respect anything. I do not have to respect anything.
I belong to a new generation. I am MODERN !
I don't care about your protocol.
I am the president of new technologies.
Contrary to you, I keep abreast of the times. I do not care about your stupid traditions and rules.
Either you accept me or you go to hell !"


This is what Obama thinks.

When he offered this iPod to the Queen, it is as if he had told her :
"Here is a slam in your face, old hag ! Listen to your iPod, sing, and dance now."


As for Michelle, she is exactly like him.
As arrogant as him.
She enjoys showing she is able to break protocol.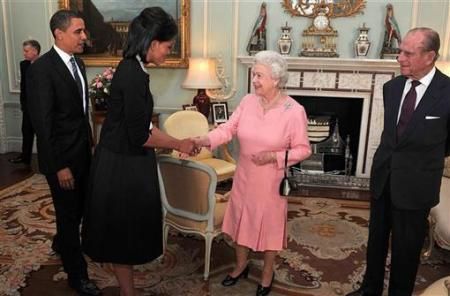 President Barack Obama (L) and first lady Michelle Obama (2nd L), meet Queen Elizabeth and the Duke of Edinburgh at Buckingham Palace in London April 1, 2009
She shakes the Queen's hand : no doubt she considers herself as her equal !



And she is very self-satisfied when she does this. The MSM can speak about her, they can praise her courage, her audacity, her new style as a First Lady.
Disgusting...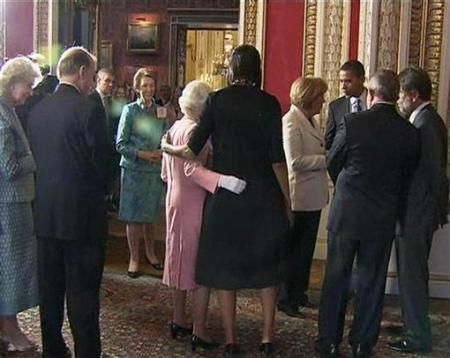 A video grab from television footage shows first lady Michelle Obama (C) standing with Britain's Queen Elizabeth during a reception for G20 leaders at Buckingham Palace in London April 1, 2009.

Now the MSM are admiring the first lady for her audacity : thanks to Michelle, the Queen strayed from protocol !

The problem is that now the British are going to hate the Obama couple now.

Shocking...