OBAMA IS NOT WELCOME IN STRASBOURG
G20 Summit / Obama's visit to France (3)

Barack Obama will be in the French city of Strasbourg in less than a week, more precisely on Friday, and there is at least one thing which cannot be denied : Strasbourg's inhabitants are not happy at all to see him !

Indeed, thanks to Mister O., life in Strasbourg this week will look like hell...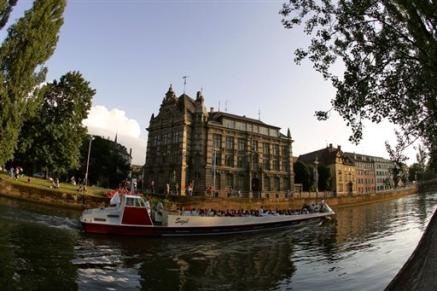 The Rohan Palace, on the banks of the river Ill, where you find the Strasbourg townhall.



Some inhabitants have already decided to leave the town, and will only be coming back when the great man from America has left.

Others, more willing to please him, have been rewarded : they have been selected to form a special delegation of inhabitants who will be allowed to meet the Messiah. But for the moment, nobody knows who they are, nor who has chosen them : Sarkozy's team ? Obama's advisers ? This is quite mysterious ! (We will try to find out, and we will tell you the truth soon in a future post).


In France, we are used to selecting very carefully those who attend the meetings where heads of states speak. Each time our omnipresident goes somewhere and speaks to the "people", his audience is in fact composed of militants from his own party, who have been selected in advance.

Last Tuesday, for example, Nicolas Sarkozy went to Saint-Quentin to speak in front of a crowd of UMP militants : no surprise he chose this city. Xavier Bertrand, who is the leader of the President's party, is its mayor.
In front of an enthusiastic audience, the president praised his stimulus plan, although it is rejected by a majority of French people and three million of them had taken to the streets to protest, less than one week before.

But what is even more revolting, is how this rally was organized, and how life in the city had been totally upset because the French president was coming.
As soon as dawn, nobody could have access to the city center. More than 1 300 policemen were patrolling. All the streets were empty. SHops were closed. Parents had been told not to take their children to school !

At noon, Saint-Quentin looked like an a ghost city. Or like a town in the Far West expecting the coming of a dangerous outlaw. Like in a western film, but without the music of Ennio Morricone.
Finally, in the evening, in the city's sports hall which had been transformed into Fort Knox, the president appeared and was cheered by four thousand adoring fans. He was as happy as Czarina Catherine II, when she travelled across Crimea, in fake villages with fake villagers that Prince Potemkine had created especially for her !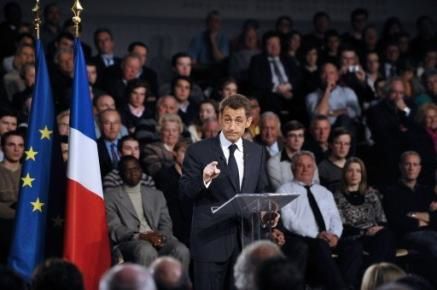 Sarko in Saint Quentin : his audience was composed only of staunch supporters


President Obama does not need to worry. He will be cheered in Strasbourg, and will meet no opposition from the lucky people who have been selected to speak to him. They will not be allowed to criticize him.
They will not be allowed to ask him embarrassing questions.
They will not be allowed to be impertinent.
Their mission will be to soft-soap him !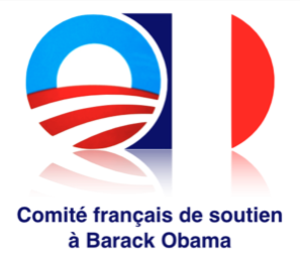 Logo of the French committee which supports Obama... to be seen in Strasbourg to please him, of course !



We are so good at it !
Even North Korea envies us.
France perfectly knows how to select the good people, the ones who deserve to see and meet presidents.
Another example : in October 2008, when Kim Il Sarkozy visited a Renault plant in Sandouville ( where many employees had been laid off), the workshops had been emptied. There was no angry worker to be seen. No employee on strike. They had been asked to stay in the distance, and they demonstrated strictly watched by police officers. Meanwhile, our dear Little Helmsman was visiting the plant quietly, shaking hands with white collar workers who played the role of blue collar ones ! His Majesty could not hear any shout, any slogan, any insolence. It was better like this, for he would not have tolerated it, and would have punished the Police Head or the "Prefet" in charge of securing the city. Our president is used to firing all those he views as responsible for disorder when he visits a place. Last January, this is what he did in Normandy when he visited a school and there were dozens of teachers and students who had come to protest against the government's education policy.

In any case, as I wrote in my introduction, the people who live in Strasbourg are not looking forward to Obama's visit. How ungrateful ! Aren't they supposed to rejoice over the arrival of a Messiah in their city ?
The Saviour of Humanity has consented to come and see them, and they complain ! What a shame !
However, we can understand them, can't we ? From now on, they are going to live in hell for a week.
The Strasbourg NATO Summit is only due to take place in a week, and yet, the Alsatian capital already looks like a bunker.

There are 4 500 police officers who will be in charge of security, and some of them are already patrolling. Two safety zones have been created - one "orange" and one "red". Inside these zones, people will not be free to move. Only the people who live in these districts will be allowed to have access to the two zones.
Some Strasbourg citizens are so angry that they have decided to sue the town for restricting their liberty. It is true that the safety measures look like pure paranoïa. For instance, some citizens have been forbidden to hang pacifist banners onto their balconies where you could read : "Pace - No to Nato" ! .
And last, but not least, the Strasbourg university, where many students were staying as a way of protest against the university reform decided by the government, was evacuated by the police only two days ago. Is this a coincidence ?
No, it isn't, of course ! WHo could have imagined an American president arriving in a French city in an atmosphere of students' strike, revolt and workers' protest, similar to what happened in May 68 ?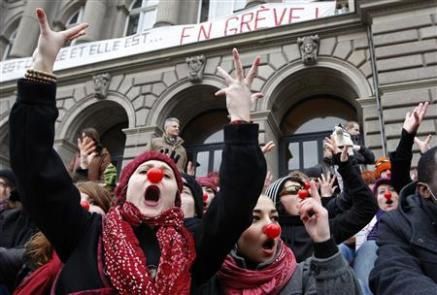 You won't see this kind of scene when Obama arrives : Strasbourg students in front of the university on strike, protesting the government's university reform. Everything will have to be in order and perfectly organized when the Messiah arrives.




Freedom of speech is now being violated, as freedom of assembly has already been. Now citizens cannot even go wherever they want if Sarkozy is near.
According to our Constitution " The free communication of ideas and opinions is one of the most precious of the rights of man. Every citizen may, accordingly, speak, write, and print with freedom, but shall be responsible for such abuses of this freedom as shall be defined by law." (This is article 11 of the French Declaration of the Rights of Man and of the Citizen)

President Obama has wished to meet a delegation of Strasbourg's inhabitants, who live in the districts which will be submitted to these special security measures. These people are the "collateral victims" of the NATO Summit. Obama will have to explain to them why the country his "pal" presides is no more the country of "the Rights of Man" !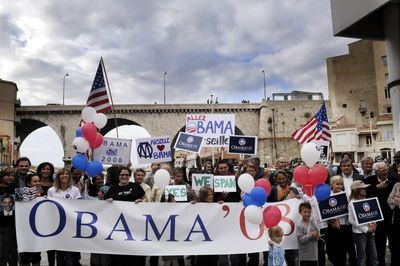 This is exactly what you are likely to see when Obama arrives on Friday in Strasbourg. It is important to make him that everybody loves him and supports him, and his policy !