HEARTBROKEN ? AREN'T YOU PRESIDENT ?
French article ; English version below

The peak of hypocrisy in politics was probably reached last night during Obam's second prime time press conference...
Mister O. pronounced a pseudo moved and moving tirade about the families who are going to lose their homes and to become homeless.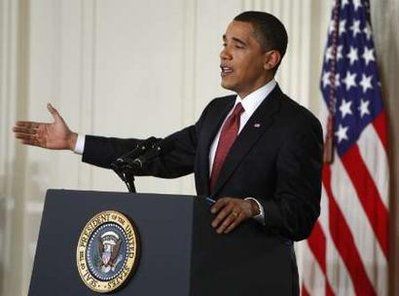 U.S. President Barack Obama speaks during a prime time news conference in the East Room of the White House in Washington, March 24, 2009.REUTERS/Jim Young (UNITED STATES POLITICS BUSINESS Obama, hier, lors de sa conférence de presse à la Maison Blanche


At a time when millions of Americans are losing their jobs and their homes, President Barack Obama says he's "heartbroken" that any children are without a roof over their heads.
Obama says the "most important thing" that he can do for those children is make sure that their parents have jobs. And he again pointed to his plan to save or create 3.5 million jobs through his economic stimulus package. (Ha ! Ha ! Ha ! He makes me think of Sarkozy who always repeats the same thing, but nobody sees the concrete results of their policies !)
He says in the meantime, he wants to work with states to help those who are "falling through the cracks." (Currently and concretely, what are YOU doing ?)
And the president told reporters at a Tuesday evening news conference that there needs to be a "change in attitude" in the country, so that it isn't seen as "acceptable" for children and families to be homeless.

Words, words, words...

This morning, I am quite amazed at hearing such words ; Mister O. aren't you the president of the first world superpower ?
Aren't you the one who has the power to help these poor people ?

By the way, what have you done with the millions of dollars you collected during the presidential campaign ?

I hope you haven't spent all this money on luxurious hotel rooms ?