YOUTHS OF THE WORLD, UNITE !
The White House announced today which college graduates President Obama will try to inspire at their commencements.
Obama plans to speak at Arizona State University on May 13, the University of Notre Dame on May 17, and the United States Naval Academy on May 22.

Now if I had to give him a piece of advice, I would tell him to prepare his speech very carefully in order to convince the students who will listen to him, for American youth is more and more disappointed by what Mister O. has been doing since he took office two months ago.

There have been several students protests over the last few weeks, culminating this week with the anti-war demonstrations throughout the country. A lot of the people who took to the streets to protest against the continuation of the Iraq War are students, who, as everybody remembers, voted for Obama last November (more than 90 % of them) !).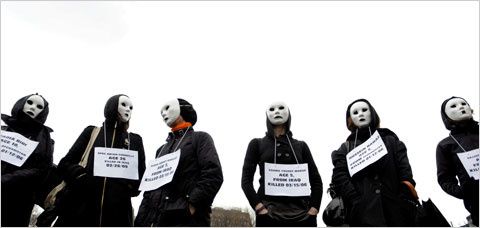 Anti war protest in Washington organized by several students' groups.


In Washington, , DC Students for a Democratic Society, protested "the war machine" as they were dancing down the sidewalks to loud funk music, followed by police officers in cars, on horseback and on motorcycles, .
The group of a few hundred carried signs that said "Funk the war" and "Student power against empire."

D.C. police arrested at least two protesters, one for spraying graffiti on a wall, but did not respond to calls for further details.

"Basically the message is war is a waste of our youth," said Lehana Penaramda, a sophomore at Walt Whitman High School in Bethesda, Md.

Penaramda said she knew students who had hitchhiked to Washington for the protest.


Another group, formed by "Our Spring Break" students from different colleges and universities marched throughout the city and Capitol Hill using a drum and a megaphone to amplify their message.

Wearing black clothes, white plastic masks and the names of Iraqi and Afghani civilians and U.S. troops killed in the war, they stood near the Capitol and dropped piles of fake money splattered with red paint from backpacks made of black trash bags and duct tape.

"For youth activists in particular it's important for us to recognize that this is our future at stake," said Harry Waisbren, 23, a communication arts senior at the University of Wisconsin. "It's really a fight for our species."

The students called their protest a "March of the Dead."

But the Iraq war is not the only issue which worries young American students.

A little earlier in the week, on Monday, Thousands of students outside of the state Capitol in Sacramento on Monday to protest state cuts in education funding.
Up to 3,000 people marched from Raley Field in West Sacramento down Capitol Mall to the historic statehouse.
The rally drew students who attend University of California, California State University and community college campuses.
"When we see an economic crisis like there is right now, this is the time to make the sacrifice, to make the investment in education now," said Dean Murakami, who teaches at American River College.
Student Troy Carter said he took part in the march to send a message to state legislators, adding that higher education is "the swifted tool to end the economic recession."

Obama should not neglect the increasing anger felt by young Americans. In times of severe economic crisis, they are likely to feel more and more worried about their future.

And he should consider the whole thing all the more seriously as this is a phenomenon which is hitting Europe, too.



Seven people have been arrested and 80 injured in clashes in Barcelona between police and university students protesting planned education reforms.
The clashes occurred during two city-centre protests Wednesday in the northeastern Spanish city after police forced students out of a university office they had occupied since November.
Police wielding batons charged the protesters as many students threw rocks, chairs and bottles at the officers. 46 of the injured are police officers and several news photographers were also injured.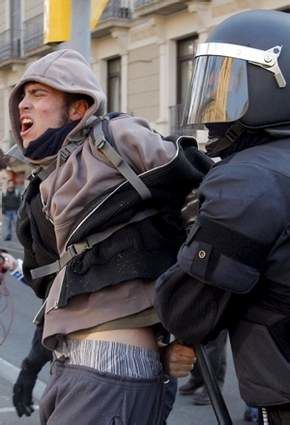 A student arrested by the police in Barcelona earlier this week.



Groups of university students across Spain have been protesting for months against changes proposed under a Europe-wide reform of higher education called the Bologna Process, which is meant to allow students to study abroad more easily and for university degrees to be equally recognized in participating countries.


In Britain, there have been protests too. FOr example, Reading University students took part in a protest against proposals to increase top-up fees on Wednesday.
This week, a BBC survey revealed two thirds of vice chancellors want to see top-up fees rise to between £4,000 and £20,000 in order to meet growing costs.
But the National Union of Students (NUS) has said raising the cap on fees to £5,000 could bring the average graduate debt up to around £32,000.
"Poorer students would be priced out of the more 'prestigious' institutions, and this must be avoided at all costs."



And of course, in France, the situation is the most worrying.

The students began their actions a few weeks ago, protesting against proposed education reforms, which they say promote inequality. The university teachers have been on strike for almost two months now.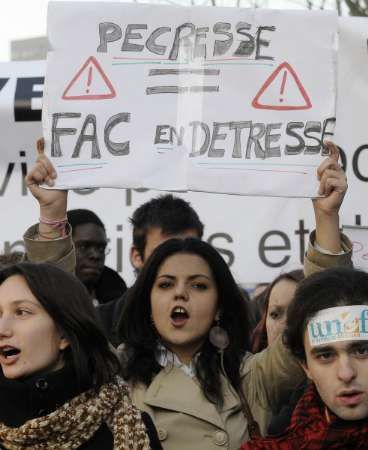 Students shout slogans as they carry a sign which reads "Pecresse equals Faculty in Distress" during a demonstration with teacher and university researchers in Paris February 19, 2009. The protests target a range of reforms, including budget and job cuts at universities as well as plans to introduce performance appraisals for researchers and lecturers. France's Minister of Highest Education and Research is Valerie Pecresse. REUTERS/Gonzalo Fuentes (FRANCE)


French universities have faced strikes by academics and students for six weeks and their protests have received wide coverage from French and foreign newspapers. Despite claims by some journalists, very few violent clashes have occurred: this movement is not another example of the recurring cliché of striking workers in France.

Nearly all those involved in university life are fighting together against the government's education reforms and particularly the one concerning teacher training. Lecturers and students have been demonstrating on a weekly basis since the beginning of February and administrative staff have joined the movement as well.

For the first time, all those in the university are united in the struggle, despite their different political leanings. Left and right-wing unions, people with or without political commitment are clearly showing their disapproval of the reforms.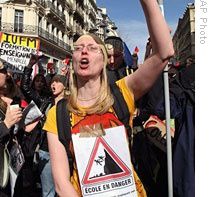 A student holds a sign reading: 'School in danger' during a demo in Marseilles, southern France on 11 Mar 2009


This is a new kind of strike and not only because it involves an unprecedented number of people throughout the university system. In fact, the actions of the movement have widened and evolved. Instead of blockading access to campuses, students and teachers have created 'active occupation' consisting of alternative seminars, workshops and debates.

These are not limited to campuses. In most university towns, to increase visibility and awareness among the general public, other activities have been and are still being organised such as cours hors les murs (that is, classes held off-site in public places such as theatres, train stations or simply in the streets), conferences, think tanks and public screenings.

Although the media have focused on statute changes, the protest is mainly about teacher training. The future masters in education backed by the government will not improve the current programme. It plans to remove the year of teaching practice.

Those who obtain their masters degree but fail the selective examinations (CAPES) will be allowed to teach as assistants or supply teachers. Some students will find themselves with teachers who failed the CAPES, thus implying a decline in teaching quality. These so-called teachers will be disposable commodities, without job security.

Despite government claims, when it comes to public spending on education, it seems clear the budget will suffer from continued reductions. More money will be given to universities but because of the financial weight of increased responsibilities, it will result in detrimental cuts.


The problem now is that so far, the French government has refused to hear the students and their teachers.

And the situation could well worsen in future days...

There have already been clashes between the students in the police, in Paris and in Lyon.


French police clashed with students demonstrating against President Nicolas Sarkozy's policies Wednesday in Paris. Police said they charged groups of students after they smashed shop windows and committed other acts of vandalism.





The action came on the eve of a planned nationwide strike, which took place on Thursday. About three million French people took to the streets to protest against President Sarkozy's policies.
(click here to know more about social conflicts in France http://europumas.over-blog.com/pages/SARKOZY_FACES_SEVERAL_SOCIAL_DISPUTES-1133303.html)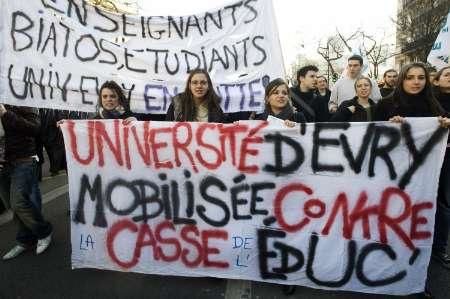 Students hold a banner which reads "University of Evry Against the Breakdown of Education" during a demonstration with teacher and university researchers in Paris February 19, 2009. The protests target a range of reforms, including budget and job cuts at universities as well as plans to introduce performance appraisals for researchers and lecturers. REUTERS/Gonzalo Fuentes (FRANCE)
Sarkozy... Obama...
France... America, what have you done ?
But I will stop complaining, for I feel a little more optimistic these days.

I've got the impression that young people all over the world are starting to realize that former generations have failed. The world is in very bad condition. It needs a rejuvenation.

And this rejuvenation might well come from these younger generations, who are fed up with greedy businessmen, corrupted politicians, campaign promises and lies.