Here is something funny, revealed yesterday by the French satirical weekly newspaper, Le Canard Enchaîné :


" Elysée Palace is lamenting : Barack Obama, the great Barack Obama, continues to snub the immense Sarkozy. He has been snubbing him for six months now, and he has refused to answer his French counterpart, who has invited him personally. The two men are due to meet on the second of April, during the G20 Summit in London, and on the 4th and 5th of April, at the NATO Summit, in Strasbourg, but Sarko would like something more private, with only the two of them. And he would like Obama to answer him quickly.
His last hope would be to meet Obama in Normandy, where the American president could attend the 65th anniversary of the Normandy landings, on the sixth of June. The US Embassy went there recently, to spot the place, but the French president has not heard from them since then."


Ha ! Ha ! Ha !
Sarko does not manage to convince his "pal" to come and meet him personally, does he?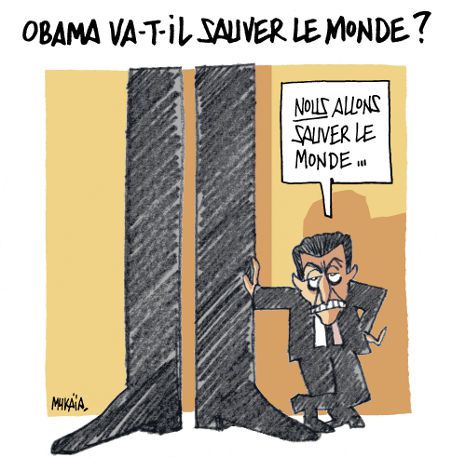 IS OBAMA GOING TO SAVE THE WORLD ?
Sarkozy : "WE are going to save the world !"



It sounds a little strange to me !
In times of crisis, as they face growing opposition to their policies, they should support each other. And wouldn't it be normal for the two greatest men in the world, the most remarkable leaders ever seen, to speak about the world's problems and future ?


Remember : the planet is relying on both of them to be saved !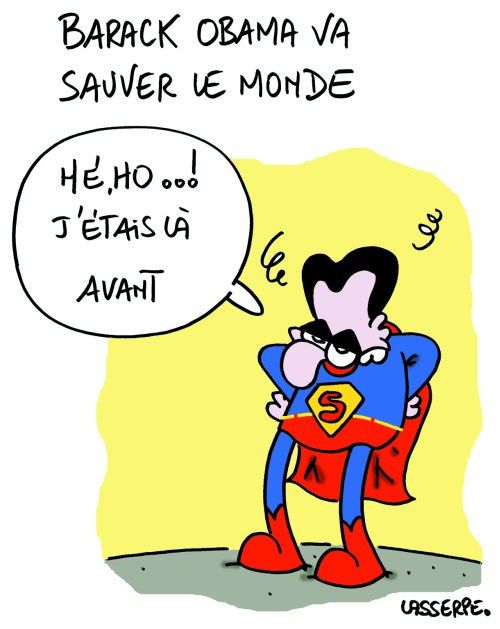 Barack Obama is going to save the world.
Sarkozy : "Hey, I was there before !"