OBAMA'S ¨PLAN HELPS THE RICHEST MAN IN THE WORLD !
Remember how the stimulus package was passed so quickly legislators complained no one had time to actually read the thing?
We're already starting to see the fruit: Road-building provisions in the stimulus will see $11 million go to what Bloomberg News is calling the 'Bridge to Microsoft' -- a highway overpass to connect two parts of Microsoft's (MSFT) wooded Washington State corpotate campus.
At first glance, it seems pretty outrageous. But in Microsoft's defense, we note the company had already planned to suspend building new facilities, meaning without the extra $11 million a new highway overpass would probably not be built for years, contributing to what we're told is heavy congestion in Redmond. (But we bet traffic here in New York is worse.)
Bloomberg's report -- read the whole thing:
Microsoft Corp., which has $20 billion of cash in the bank, is among the first in the Puget Sound area to benefit from the investment in roads and bridges through President Barack Obama's stimulus plan.

A few days ago, Forbes published its yearly list of billionnaires : Bill Gates is the richest man in the world.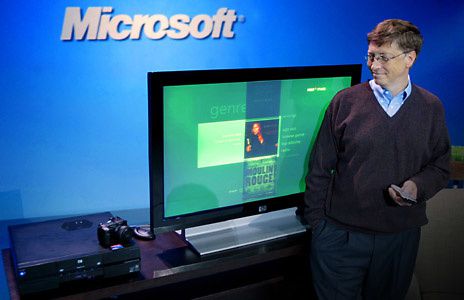 Now, what is his job ?

He is chairman of Microsoft Corp.

No doubt he needs American taxpayers' money !

Thank you, Mister O. !