OBAMA OFFENDS THE BRITISH !
SHOCKING !

British newspapers are upset over what they see as rude treatment given to Prime Minister Gordon Brown by U.S. President Barack Obama this week, observers say.
The London dailies criticized Obama's treatment of Brown during his state visit to Washington this week on several fronts, including alleged cheap gift-giving, the New York Daily News reported Saturday.


"President Obama has been rudeness personified toward Britain," The Daily Telegraph wrote Friday. "His handling of the visit of the prime minister, Gordon Brown, to Washington was appalling."



(learn everything about Obama's gift in this article from the Guardian : http://europumas.over-blog.com/pages/OBAMA_OFFRE_DES_DVD_A_GORDON_BROWN___OFFERS_DVD_TO_GORDON_BROWN_-1171581.html)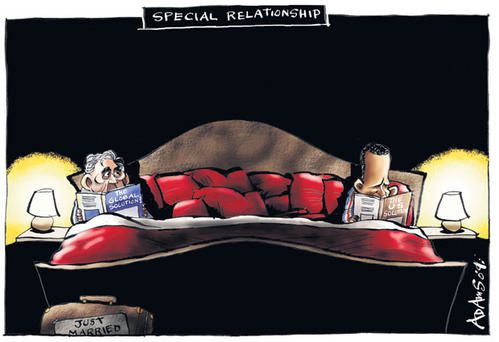 How has the Obama justified this blunder ?

They "inherited" the crisis. There was a "lapse" in the vetting process. The couldn't properly translate Russian at the State Department, and now for the latest Obama Administration excuse: the president is "too tired".
"Sources close to the White House say Mr. Obama and his staff have been "overwhelmed" by the economic meltdown and have voiced concerns that the new president is not getting enough rest."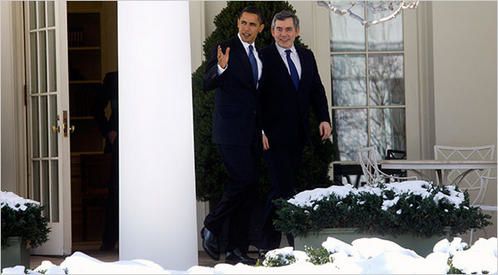 Barack Obama's offhand approach to Gordon Brown's Washington visit last week came about because the president was facing exhaustion over America's economic crisis and is unable to focus on foreign affairs, the Sunday Telegraph has been told.

(read the Sunday Telegraph's article :
http://europumas.over-blog.com/pages/OBAMA_TOO_TIRED_TO_GIVE_PROPER_WELCOME_TO_GORDON_BROWN_-1146804.html)



British officials, meanwhile, admit that the White House and US State Department staff were utterly bemused by complaints that the Prime Minister should have been granted full-blown press conference and a formal dinner, as has been customary. They concede that Obama aides seemed unfamiliar with the expectations that surround a major visit by a British prime minister.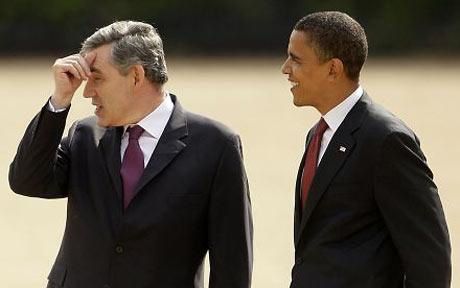 Translated, this suggests that President Barack Obama and his White House staff are incompetent and are incapable of doing their jobs. The implications of this revelation, so early in the Obama administration, should give pause. While the Obama administration is foundering in its so far unsuccessful attempts to deal with the economic crisis, it is neglecting foreign policy and national security to the extent that it cannot even properly handle the proper protocols for a visiting head of government from one of America's oldest allies.


What is really worrying now is that America's enemies cannot help but notice this situation. One can only imagine what is going through the heads of such people as Osama bin Laden and Ahmadinejad of Iran as they plot their next moves against the United States.

In the private sector, in the ordinary course of events, when a new hire is seen to not be up for the job, he or she is let go. That is not an option for a President of the United States before the next election.


Unless...
Any idea of what I am thinking of ?

Theoretically, Impeachment is a possibility, isn't it ?